Scroll to the bottom to submit your resume & information
Customer Service
We are a local bakery making the finest pastries in Cincinnati since 1983. We pride ourselves on using our own original recipes and from scratch baking. We are currently looking for customer service specialists that are committed to great customer service and have a passion for all things sweet!

Our current hours are Mon-Sat 10-4.

Interested candidates should posses the following traits:
*outgoing, friendly personality
*desire to learn about our baked goods and educate our customers
*attention to detail
*strong communication skills
*available to work weekends and holidays
*self motivated, ability to move from one task to another
*eager to help customers
*desire to learn and grow

Responsibilities

Manage large amounts of incoming calls
Identify and assess customers' needs to achieve satisfaction
Build sustainable relationships and trust with customer accounts through open and interactive communication
Provide accurate, valid and complete information by using the right methods/tools
Handle customer complaints, provide appropriate solutions and alternatives within the time limits; follow up to ensure resolution
Keep records of customer interactions, process customer accounts and file documents
Follow communication procedures, guidelines and policies
Take the extra mile to engage customers
Wedding Co-Ordinator
Beautiful and delicious – that's what the BonBonerie stands for. We've been creating fine pastries in Cincinnati since 1983, and we care about making food that delights and inspires. From our famous three-tiered afternoon teas to our signature Opera Cream Torte, everything on our menu is of the finest quality and created with care. We're looking for new team members that share our passion for quality, integrity, and pastry.

About the position:
We are currently seeking a Full Time Wedding Coordinator. This position reports to the General Manager. Responsibilities include meeting with couples for cake tasting appointments, responding to emails and calls, coordinating the delivery schedule and all wedding deliveries, working closely with departments throughout the bakery, assisting at the bakery counter, and delivering cakes. Must be available to deliver cakes to weddings on Fridays, Saturdays, and the occasional Sunday. During our busiest months – May through October – weekends are mandatory.

What we are looking for:
- Reliability
- Creativity
- Positive attitude
- Customer service experience
- Professionalism when engaging with clients
- Leadership skills
- Ability to work independently and manage a department
- Comfort working in a fast-paced environment
- Follow-through &the ability to guide clients through the cake design process
- Experience decorating/stacking/icing cakes is a plus

Perks of the position:
- 50% discount on products
- Access to delicious pastry during shift
- Health, dental, vision insurance
- SIMPLE IRA
- Paid vacation
- 6 paid holidays
How to apply:
- Follow the link below for application
- Email your resume with WEDDING COORDINATOR in the email subject line
- Apply in person at our location at 2030 Madison Road, Cincinnati, OH 45208
- NO PHONE CALLS PLEASE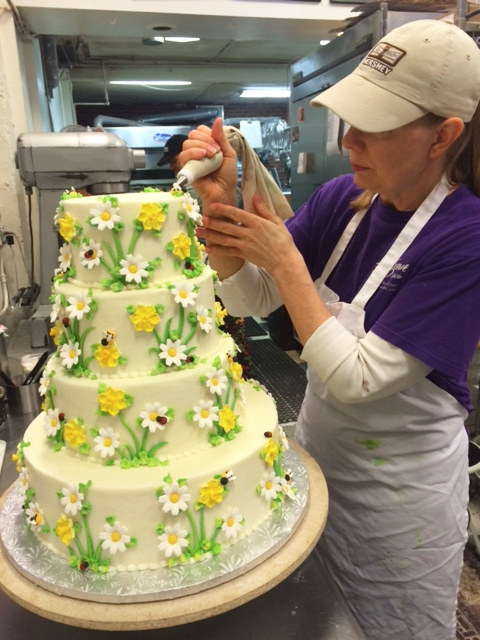 Cake Decorator (part time)
This position is part of the Decorating Team, which ices and decorates our signature tortes for birthdays, weddings, and other special occasions. Schedule will require availability in the morning on weekdays; seasonal demands may require additional hours. There is opportunity for overtime during peak seasons.
You might be the perfect fit if:
- You have the ability to ice & decorate cakes, including piping & writing in icing
- You have familiarity with fondant, buttercreams, and standard cake decorating tools
- You have knowledge of standard commercial kitchen equipment
- You can measure & extend recipes
- You enjoy working in a fast-paced environment
- You have a positive attitude
- You LOVE cake!
Perks of the position:
- Access to delicious pastry during shift
- 50% discount on products enjoyed outside of your shift
- Off on Sundays
- Paid time off & benefits
Server (part time)
This position is part of the Cafe Team, which serves elegant breakfasts, lunches, and teas for both dining-in and to-go. At this time we are open 10am-4pm, Monday through Saturday, with private parties on Sundays; these hours were determined based on the situation regarding Covid-19 and will change in the future. Hours may vary depending on seasonality and demand.
You might be the perfect fit if:
- You have a high school diploma or equivalent
- You have a positive attitude
- You take initiative
- You have an eye for detail
- You enjoy working in a fast-paced environment
Perks of the position:
- Access to delicious pastry during shift
- 50% discount on products enjoyed outside of your shift
- No night or evening shifts
- Possibility of additional hours and moving up within the company