We request at least 24 hours in advance to schedule afternoon tea. For questions or to begin an Afternoon Tea reservation please fill out this form.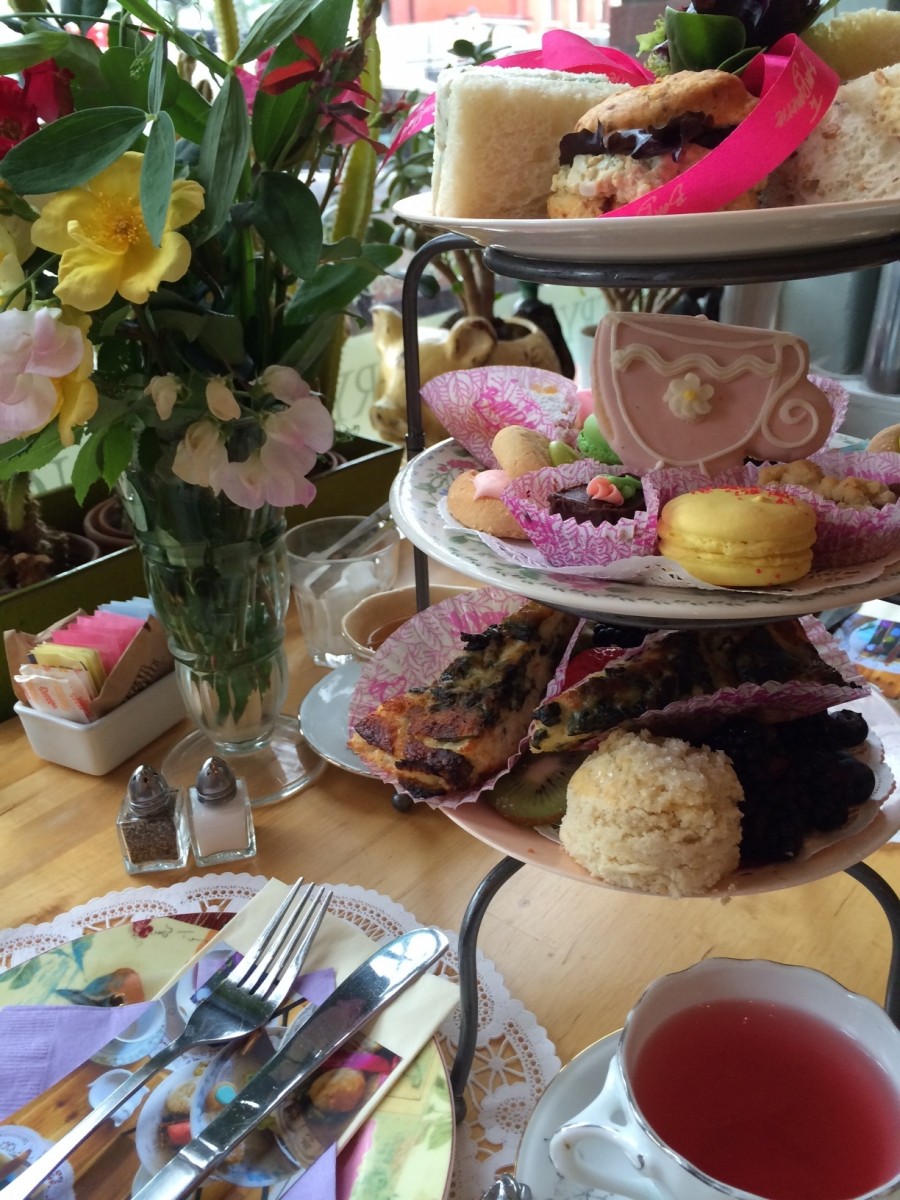 Option 1
Café: 1 – 14 people seatings are any time between 11am-3pm
Prices:
Adult - $28.00 per person, plus tax
Children – $20.00 per person, plus tax
(This includes your food, beverage and gratuity.)
Option 2
Tea Room: 15 – 45 people (seatings are 11am and 2pm)
Prices:
Adult - $28.00 per person, plus tax
Children – $20.00 per person, plus tax
(This includes your food, beverage and gratuity.)
PLUS $175 room rental fee
Parties of 15 -40:
We have two rooms available to rent. The first is our tearoom which is adjacent to the cafe. The second room is in our cafe. Each room has a $175 room rental fee.
The time, size and your preference will determine which room is right for your event. Parties of 15-45 are typically held in the Tea Room. This room is yours to use during your event. There is a bathroom in the hallway and a bar area or tables that can be used for gifts or other items. We do use a small area in the room for cake tastings (when needed) so there will likely be an appointment in the corner during your event. This is a small area blocked off to the side.
To book an Afternoon Tea we need at least 24 hours notice. We have a 24 hr cancellation policy and do require a credit card to hold the reservation.
We have over 15 different types of specialty blended teas from Elmwood Inn Tea's. Classic and specialty Black teas, fruity white teas, soothing green teas and caffeine free tisanes. Your afternoon tea with The BonBonerie Cafe will arrive on a beautiful 3 tiered stand. Each tier will be adorned with an assortment of our hand crafted delicacies.
Beginning with an assortment of our delicate finger sandwiches; the top layer offers cucumber and fresh Borsin cheese, veggie cream cheese with crisp bell peppers on multi grain and egg salad on our homemade buttery dill biscuit.
The middle and most important layer serves up our handcrafted famous desserts from our Bakery. Buttery tea cookies, French macarons, and our petite double fudge brownies.
The final tier offers an assortment of mini scones made fresh each morning from our classic English scone recipe, slices of our specialty French quiche served warm tucked in next to thick slices of fruit bread and fresh seasonal berries. Our freshly made clotted cream is served upon request.
The children's tea is served with Turkey & Colby and peanut butter & jelly finger sandwiches. The sweets plate consists of a handmade cutout cookie, brownie and a buttery tea cookie.