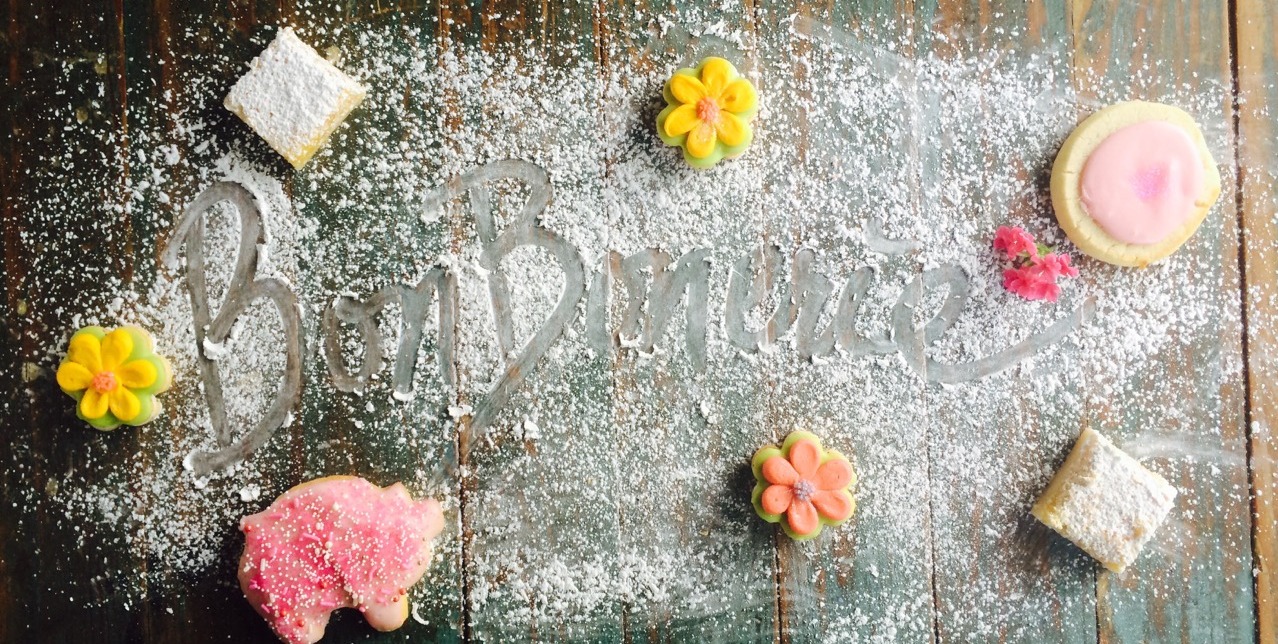 At this time we do not have an online ordering system in place. You can place an order by calling us at 513-321-3399 during our business hours.
Do I have to make reservations in the Café?
At this time we only take reservations for our elaborate, 3-tiered Afternoon Tea. All other tables are first come, first served.
Do I have to make reservations for Afternoon Tea?
Yes, at least 24 hours in advance. Our Afternoon Tea is an elaborate three-tiered display of finger sandwiches, scones, pastries, quiche slices, and fresh fruit, and as such it requires more preparation. We do not require reservations for our Tea Lunch, which is a smaller version of our Afternoon Tea available as an item on our daily lunch menu.
Can I order food from the Café to go?
Absolutely! All our Café menu items are available to go, even our Afternoon Tea. Our Afternoon Tea to go still requires 24 hours' notice, and there is an optional 3-tiered disposable gold stand you can purchase to display your treats at home.
Is BonBonerie accessible?
The bakery has an accessible spot in the bakery parking lot. There are stairs that lead up to the bakery. If you require assistance up the stairs, or would like to have someone bring your order out to you, call us at 513-321-3399 ext. 2 and we'll be happy to help.
There are stairs that lead from the bakery parking lot down to the cafe. The cafe is more accessible from the street entrance, where there is one step before the entrance threshold. There are two steps to reach the restroom. If you are making a reservation in the cafe for someone with accessibility needs, please be sure to specify when speaking with a team member to ensure we reserve the appropriate table and location for your party.
Is the Tearoom available for rental?
Yes, the Tearoom is available for event rental Monday through Friday 3pm-5pm and Saturday from 4pm-6pm. Please keep in mind that we are limiting capacity to comply with social distancing requirements. Call 513-321-3399 ext. 3 for details and reservations.
We are open from 10am-4pm Monday through Saturday. We are closed Sundays (with the exception of private parties in the Café).
How do I place a bakery order?
You can place an order by calling us at 513-321-3399 during our business hours or by stopping in to see us and placing the order in person. At this time we require payment in advance for all orders.
Can I place a same-day bakery order?
We require at least 24 hours notice for all bakery orders. We make plenty of extra cakes, cookies, cupcakes, and more for same-day walk-ins. We're happy to write on a cake for you while you're here!
How far ahead do I need to place my order for custom cakes, cutout cookies, or cupcakes?
There are so many variables to consider when ordering a custom design cake – flavor, design, size, tiers – that we recommend that you call the bakery as far ahead as you can. We always have our 6" and 9" monthly cake flavors in the bakery, but for your one-of-a-kind cakes, it's best to call ahead at least seven full business days in advance. We have a limited amount of custom orders that we can take, so on some weekends we may be limited to less elaborate designs, or we may be at maximum capacity and cannot take any more.
For cutout cookies, our monthly designs are a phone call away and sold daily in the bakery, but if you choose from our gallery of other options – or find a design somewhere else you'd like us to use as inspiration – we need at least 3 whole business days' notice (minimum order is 12 of each custom design).
For cupcakes, if you choose something different than our seasonal designs, we require at least 3 whole business days' notice. We require at least a dozen ordered of any custom design.
Is there a fee for a wedding cake tasting?
We offer this service complimentary to our guests looking to book their wedding cake with us. You can make your reservation for a tasting online here or by calling our wedding department at 513-321-3399 ext. 4.
How do I get to BonBonerie?
We are located at 2030 Madison Road. You can enter the Bakery through its main entrance in our parking lot off O'Bryon Street. O'Bryon Street is one-way off Madison. Our parking lot is on the left side with a large pink BonBonerie sign welcoming you. There is additional parking across the street in the Grandin lot that requires payment for parking. You can reach the Café from our parking lot as well by walking down through the Secret Garden and following signs indoors to the Café. You can also reach the Café though our entrance on Madison Road next to Hemptations.
What's on your bakery menu?
We have a selection of customer favorite items that have been on every menu for years. Other than that, our menu rotates monthly with seasonal pastries, cookies, and cakes. To see what we have this month, visit our Bakery Menu page at this link here.
Why can't I get something that's not on your monthly menu?
Because we're a small bakery, unfortunately we can't make everything we like all the time. If there is a menu item that you need that isn't on our menu for the month, we may be able to accommodate a special order (depending on availability of ingredients) if you're looking to purchase the entire batch.
Can I get the nutritional information for items?
Because we have hundreds of recipes, we don't have the capability of working out the specific nutritional information of every item. We are happy to let you know the ingredients of any item to accommodate any allergy questions or dietary restrictions.
Do you have any vegan items?
At this time we do not have any vegan baked goods on our menu. If you're looking for a great vegan bakery in Cincinnati, we recommend checking out Happy Chicks Bakery in Northside. We are always testing new recipes and adding new items, so feel free to check back!
Do you have any gluten-free items?
Absolutely! We have several bars and cookies that are naturally gluten-free. For a full list of what items we have this month, visit our bakery menu page for the month or give us a call at 513-321-3399.
What if I have a nut allergy?
We work with peanuts and tree nuts throughout the bakery. We thoroughly clean each station before starting another recipe, but because we make so many items in the same space, we cannot guarantee against any cross-contamination. If you're looking for a completely nut-free bakery in Cincinnati, we recommend Cherbourg Cypress Bakery near Findlay Market.
We deliver to local zip codes in Cincinnati and Northern Kentucky. The delivery fee can range from $15 to $50 depending on the zip code. We recommend planning your delivered items in advance as delivery slots fill up, especially during the holiday season. To schedule a delivery or find out delivery fees for your zip code, call us at 513-321-3399. We also deliver products twice a week to Kremer's Market in Northern Kentucky, Jungle Jim's in Eastgate, and Jungle Jim's in Fairfield. You can place an order to be picked up at any of those locations with no delivery fee.
Are you on any food delivery apps?
At this time we are not available on any food delivery apps.
We can ship almost all of our cookies and many of our bars. We ship exclusively via UPS. To place an order for shipping, call us at 513-321-3399 during our business hours. Because of varying weather conditions and changing delivery schedules, we cannot ship our tortes. You can still order our classic Opera Cream Torte and Carrot Cake in 6" sizes through Cincy Favorites at this link here.