"Master Baker"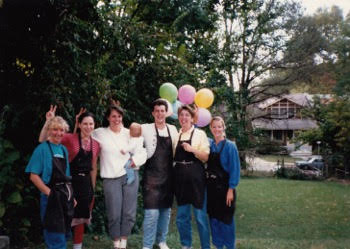 You may wonder who Iain Traughton is. The fourth year we were in business he came knocking at our humble door over on McMillan Avenue and wondered if we needed any help. He was all of 18, freshly arrived from Manchester, England with a smile and confidence written all over his face. He informed us right off the bat that he was in fact a "Master Baker". You can imagine the incredulous look we gave him, but before a minute had passed he in fact showed us his certificate as well as a healthy portfolio of pictures of his extraordinary accomplishments. We were stunned and still a bit skeptical. He pleaded for a chance to show us his worth and that day demonstrated his beautiful writing with icing, his quick and exact hand slicing a cake into 3rd's and a bright and lively way about him. He was hired.
We learned a lot from Iain, especially about how different education could be in England if you chose a trade. He was in fact very very qualified to start his career at 18 years of age.
He became one of us almost immediately and we enjoyed learning from him. Our original business plan for The BonBonerie was to sell to restaurants. That way we could control our time better and did not need a "good" location. When we moved to our present location on a one way street with the entrance facing the parking lot, we offhandedly decided to offer a few items for sale to the people that wandered in from our neighborhood.
I loved doughnuts like my grandmother and Aunt Rea made but our agreement with the Board of Health was to never allow grease laden vapors to escape above our stove or we would have to buy an elaborate exhaust system, that we definitely could not afford, so no doughnuts. We wanted something a little more exotic than a muffin, however, and Iain suggested his favorite breakfast pastry, the simple but delicious scone (pronounced skon by Iain). So we made his favorite raisin scone recipe and week after week grew a few more fans until they really became one of our signature items. They became so well liked that we were contacted by Gourmet Magazine to share the recipe with them and indeed we did. The requisite clotted cream to go with the scones was something we didn't have in the US either, so we created our own version, which we still make weekly. Ask for some at the counter.
So when you bite into your next scone, know that there is a story there. I think it is one that makes that scone taste just that much better since the recipe is from a "Master Baker".
Sharon Butler Co-Owner