A Collective of people, craft and art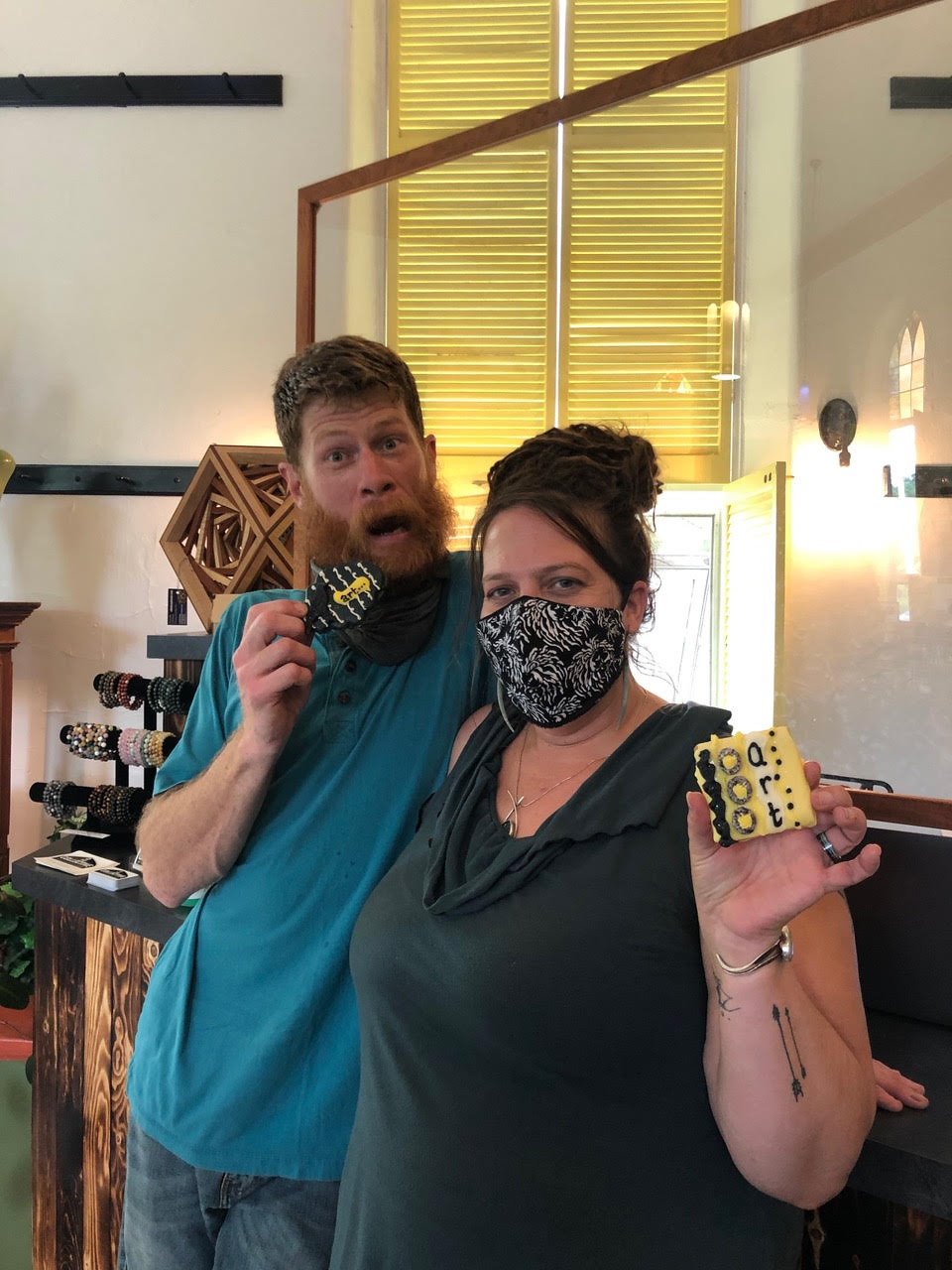 Aly Stacy is my niece. I've known her since she was twelve when her Mother Judy married my brother Chuck. We don't always know much about the kids in our blended families these days as they weave in and out of our lives. We see them at random Christmases or someone's birthday party, but mostly I ask my brother how his family is doing when we get together. I didn't know Aly all that well. I remember making her wedding cake. She had her wedding and reception at the home she and her new husband lived in New Richmond. The theme was fairies and the bridesmaids and bride wore handmade wings as they frolicked in their wooded back yard. The cake was covered with icing ferns and meringue mushrooms.
Aly has three children now and started a business at home sewing clothes to sell at art fairs throughout the country. She has a great deal of talent and most of all perseverance, which is what it takes to survive. She not only survived but has thrived. Her business is called Kreative Mindz. Because she is a creative soul she has had to adapt during our great American shutdown. Instead of giving up she took a big chance. Last Friday night was the opening of her and her husband Beau's inspiration called the COLLECTIVE. It's located in an old German church out in New Richmond and is a gallery of many local and national craft people and artists to show and sell their wares. By the way, Beau made the beautiful green display shelves in the bakery.
Aly called me to order some decorated cookies for the opening. At first she wanted her new logo on the face of it, but after second thoughts decided to let our most magnificent cookie designer Angela Hurtte get inspired with a theme of art, local and New Richmond with a color pallette of black, yellow and white. When I picked up the cookies to deliver them to the opening, I was so excited to see how Angela had used her own artistry turning a cookie into so much more. When Aly saw them she was so excited and when I saw what Aly had done to this space in the church I felt like she had done the same thing. She elevated the ordinary into something extraordinary. She told me the opportunity had come from the New Richmond Business Association and she just said YES. That is a girl after my own heart. She trusted her instincts and felt a need to show all the work from the artists she knew from the circuit of shows she usually exhibits with each year. She is helping all of them, New Richmond has a new destination to attract people and Aly is doing what artists do so well: they adapt, take a leap and make something that wasn't there before transforming things for the better.
Here are a few pictures of Angela's cookies and The Collective which is located on Walnut Street in New Richmond which is right on the Ohio River.
I hope you get a chance to visit the Front Street Cafe owned by Bob Lees on Front Street. Bob drives all the way to Bonbonerie each week to pick up cakes to serve to his appreciative customers. We recently discovered that Bob lived in New Richmond as a boy as did my husband Karl. They shared memories of the old neighborhood on the night of the opening. I think Art brings the most interesting people together.
Sharon Butler
Co-Owner