A great BIG BonBonerie Smile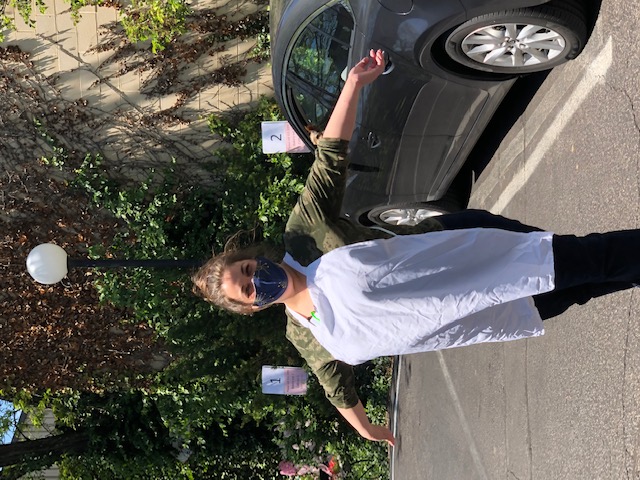 Today I was thinking of a song I sang when I was in the Brownies (brownies are the name of the group you belong to before becoming a girl scout, not a delicious chocolate pastry). This song was rebooted from my memory after looking at pictures of BonBonerie staff I took yesterday during the "NEW" Saturday before Mothers Day rush. Thanks to all of our loyal customers, we had a rush to attend to. Saturday was lovely. And our staff has figured out how to be nimble, resilient and safe.
But getting back to the song, it goes like this:
There's something in my pocket,
It belongs across my face,
I keep it very close to me in the most convenient place.
I know you'll never guess it,
if you guess a long, long while,
So I'll take it out and I'll put it on it's a great big brownie smile.
As I greeted staff members with their walkie talkies and clipboards in hand, I felt like I could still see their smiles hidden beneath their various fashion forward masks. It was in their eyes, hidden like the brownies hide their smiles in their pockets, not gone, just hidden momentarily by their masks until their eyes light up. Body language also tells a tale. As Erin
McCabe was on her way to deliver a package to a car in the parking lot she reached out her arms with an exuberant air hug. Inside, as Holly was filling an order, she raised her arms to form a smile with her hands pointing up like the ends of a smile. Perhaps we should use that as a new gesture that means, I am smiling at you. All around the shop, there were smiles from one face to the next; there were Tracy, MaryLee and Christine organizing in the bakery, Jessica and Maggie down in the Cafe readying tea parties to go, and Daniel hustling food to waiting cars. Smiles abounded in spite of the challenges.
It's not easy to smile these days. Come see us as we gradually reopen, but please call your order in first before coming. We will bring your order right to your car……with a smile.
Sharon Butler
Co-Owner