A tiny pink gift for you.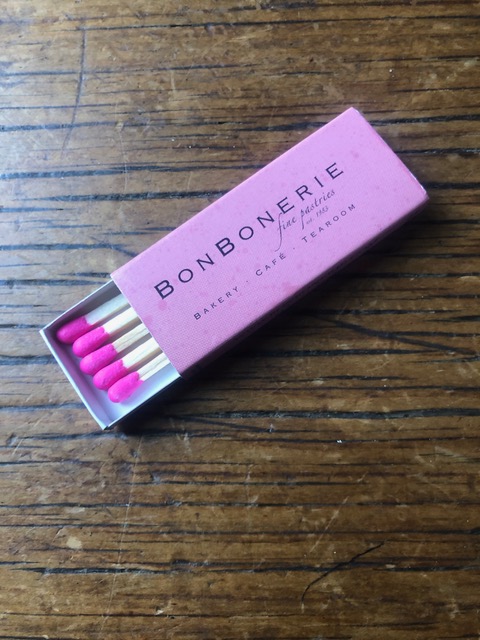 There are plenty of promotional objects that companies offer small businesses to provide reminders to their customers that say, "We love you, we want you to love us too, or at least remember us". We've sold BonBonerie coffee mugs and to-go travel cups. One year we printed calendars with photos of staff members holding cakes and cookies to sell, which wasn't the most successful idea. We even commissioned children's onesies and t-shirts that said "BonBonerie Baby" on the front, which mostly ended up going to relatives. There's a lot of guess-work when it comes to choosing the best thing to give out or to sell that serves as a reminder for all of you not to forget who your favorite bakery is.
But I think we finally did it. Christine, our counter manager, and I, were brainstorming last summer. We talked about party favors that used to be given at children's birthday parties. This will age me, but I always looked forward to the tiny paper baskets full of mints or peanuts to bring home from childhood birthday parties. We talked about what brides give to their guests at their receptions. At one time it was actually a slice of the wedding cake wrapped in a fancy paper napkin for you to take home at the end of the reception. I was told if you laid it under your pillow that same night, you would dream of your future husband. Wow, not sure who I dreamed of at ten. A pack of matches with the names of the bride and groom with the date of the wedding on each pack was probably the most useful of favors. At the time, many of us were smokers and we were always looking for a pack of matches. I even knew people that collected matchbooks in fishbowls and displayed them on their coffee tables. Current bridal favors run the gamut from monogrammed handmade chocolates to custom scented candles, each gift elaborately wrapped and placed above the place setting for each guest as a token of appreciation for their attending their wedding.
Of all the party favors and promotional knick-knacks we explored, the matches made the most sense because of our relationship to birthdays and candles. Matches are becoming harder to find since, gratefully, so many people have quit smoking, never started smoking, or vape. There is nary a match or lighter to be found in a purse or pocket when you need one.
Last summer Christine began to search for the perfect matches. It was actually quite an unexpected challenge to find matches the right size, color and price. But they finally arrived during the Christmas holiday. Now each of you will receive a complimentary box of BonBonerie matches with every birthday cake you purchase. We hope it will light your candles and provide you with a reminder of us when you open that drawer in your kitchen where the "I don't know where to put this thing" goes. "Oh! there's some BonBonerie matches. I'll go over there soon and get some cookies or a scone". Or maybe you don't need a reminder and have a sweet tooth like me that always needs to be satisfied. But at least now, you'll also have a pack of pink matches in case you need one.
Happy New Year from us!
Sharon Butler
Co-Owner