An Amish Tea Party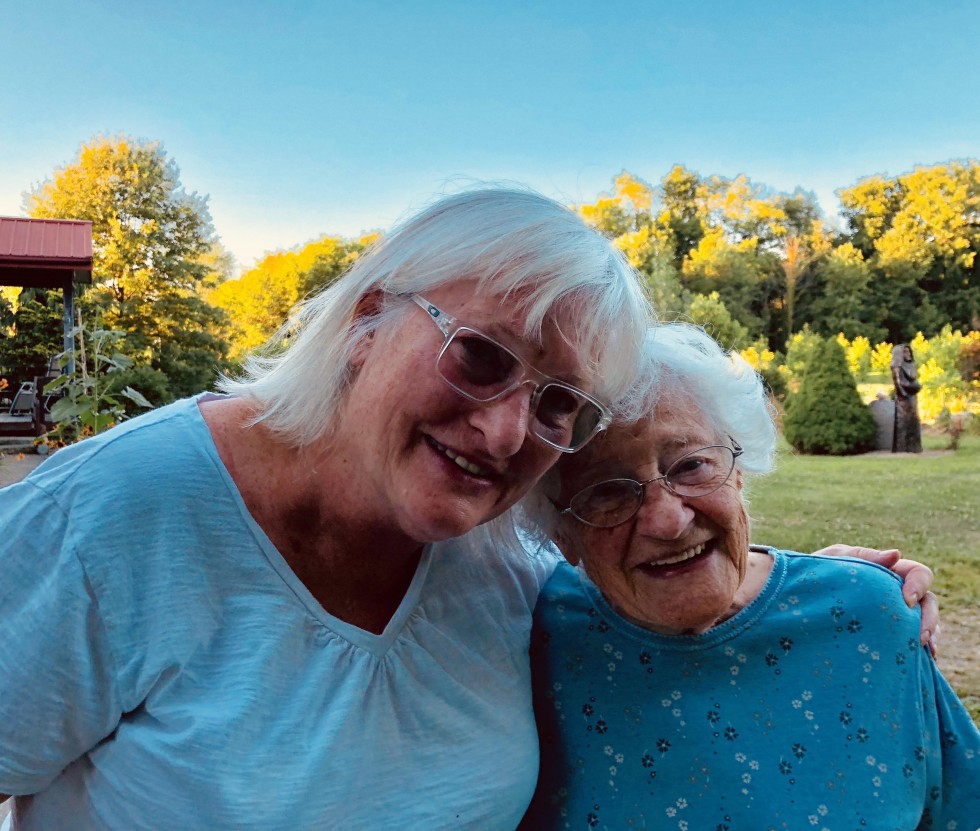 Amish Tea Party Blog 7/9/2018
This weekend my friend Tweety and I put on a tea party for eight Amish women and Tweety's ninety three year old Mother Julene. Tweety (Laurel) is a dear old friend who often helps me with art projects I get myself into. This weekend it was my turn to help her with a project.
She lives in a very small town in northern Ohio called Fredericksburg, which has a very large population of Amish living there. When she moved back home from Washington state a year ago, she looked for work, which was not easy to come by. One day, a neighbor asked her to do her a favor by driving an Amish woman to a doctor's appointment. Her neighbor's job was to drive the Amish wherever a buggy was a challenge. So Tweety agreed and now she is also an Amish taxi driver .She enjoys the work and her clients so much that last Saturday evening she decided to invite eight of them over for a tea party.
The first group arrived, two of them pregnant and another was someone's younger sister. Then came one of the elders, her two daughters and a single girl who was about to be married. They were all dressed plainly, not a button, earring, and necklace or ring anywhere. Their bonnets all sat on their heads neatly, simply, in a beautiful way. Their faces were slightly sunburned.
As we sat in a circle in Laurel's mothers living room, I spoke to them about how afternoon tea got started, how all tea comes from the same plant and the kinds of parties we have at The BonBonerie. They listened, not asking a lot of questions. I didn't know til the next day that most Amish stop attending school in the eighth grade. They were shy at first, but after we sat down at the table to begin our tea, I could see them begin to relax. There was a quiet delight shared with a half-smile here or a comment about a sandwich or pastry there as they worked their way through the three tiered tea stands. Food was the center of most of our conversation, but by the end of the evening we began to talk of other things including the subject of twins since almost everyone there had a set of twins in their family to talk about. Some of the stories were funny.
As half the group went on a tour of Tweety's house, four remaining women sat with me at the table. One of the more openly curious women said" I bet you think we are strange in our customs, but we are really just like you." She wanted to reach across the chasm between our worlds for at least a few moments. She explained to me that they don't feel the need to engage with the outside world because they don't need what it has to offer to live the life they have chosen. One of peace, love of God, hard productive work and community"She posed an interesting question for me. Does the drive inside humans for more knowledge, more natural resources, more money, and more choices really make our lives better or make us happier?
As they gathered their cookie favors, and put their shoes on they had left at the front door, I felt something had been shared between cultures that was tender and delicate and lovely. Waiting for Tweety to return from her first delivery of the women to their homes, the elder remained and boldly inquired as to the possibility of getting a recipe or two of mine sent to her. She was openly curious about what in the world a petit four was and how could she learn to make it. Would I please send her the recipe? She scribbled her address on a scrap of paper.
In the age of instant answers to our questions, I thought about the isolation of not knowing much outside of your family, friends and neighborhood. But we can actually be that way outside of the Amish community too. The difference is that we have the means to find answers if we want to.
The day after the party we went for a drive. It was a total stop and go journey on every country road we travelled often coming up behind a horse drawn buggy full of fresh looking children and their parents in simple garb. They looked beautiful, handsome. Life was sweet in the bubble of their country homes, horses, and farms. I was grateful I had the opportunity to have served them something from my world. Connecting over food is a luxurious language that I am fluent in.
The next day Tweety's mother had heard from her Amish neighbor that the tea was the talk of church on Sunday. I guess in some ways we really are alike.
Sharon Butler
Co-Owner