Befriending Artists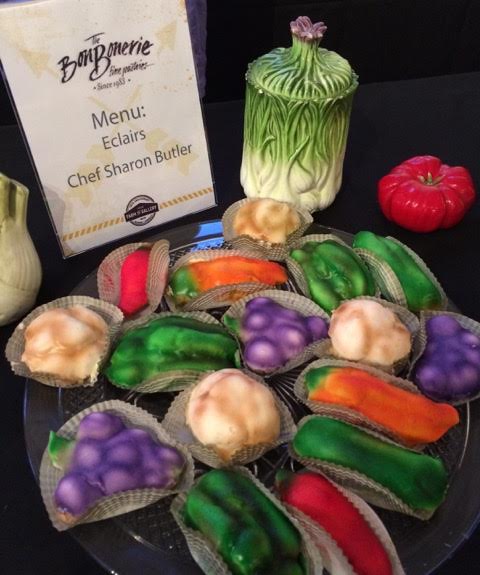 Befriending artists has been one of the greatest joys of my life. As I headed off to Columbus College of Art and Design right out of my all girl, Catholic high school, full of suburban prejudices and innocence, it didn't take me but a minute to feel that I had finally found my tribe. The people I lived with, my professors, the things that we were asked to do all fit me like a glove. To this day I am still very close to those wondrous souls. You can even see some of their work decorating the Bakery and Cafe today. Trading art with each of my artist friends has had an impact on my desire to not only collect art but to display mostly original pieces here at The BonBonerie. Some of the pieces you may have noticed have even been commissioned to reflect what goes on within these walls. In the end Art not only matters, but in my mind transforms all of our lives for the better.
Last week The Carnegie Arts Center in Covington, Kentucky celebrated The Art of Food for the tenth year in a row. I remember 11 years ago Bill Seitz, the art director of the Carnegie at the time, asking me to meet with him about an idea he had. He was a customer of the BonBonerie and wondered if I might brainstorm with him a bit about his idea of celebrating the way food creation and art may be harmonious. I remember him telling me how he had expected that we might chat a bit, but definitely wasn't prepared for the extended afternoon of ideas that spilled out of the both of us. Many of these ideas are now living memories in the bellies and photos of thousands of guests at this annual event.
This year at the show, we were challenged to come up with a pastry with the theme of "From Farm to Gallery". Liz and Bill in our fanciful pastry department dreamt up the idea of turning the shape of our eclairs into vegetables filled with chocolate or caramel pastry cream, after which Debra, our head decorator painted the shapes to look like cauliflower, peppers, broccoli and even sweet potatoes. It invigorated our minds and brought a smile of pure joy to everyone who enjoyed dessert that night. That is the thing about art; it transforms the ordinary into something else.
When I toured the second floor galleries of The Carnegie that night I was unaware of a fantastic portrait room that had been commissioned for The Art of Food. The artist Antonio Adams, had hand drawn a portrait of every single chef that had participated over the two night event. There on the wall I had been interpreted in paper and ink. That was a first for me. I was completely shocked in the most wonderful way. I will be hanging the portrait in the Cafe in the next few weeks. Come in for lunch, enjoy some Art.
Sharon Butler
Co-Owner