Cafe after dark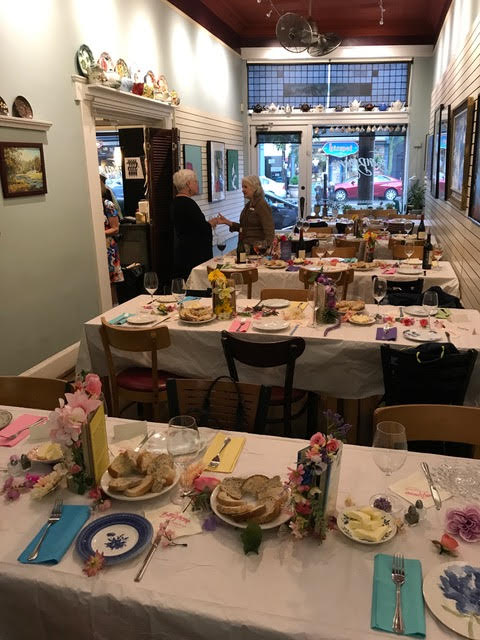 Cafe after Dark………………Evening Poetry Party
Dos Madres Press is an independent publishing company whose raison d"etre is to publish new work by primarily local poets. Robert Murphy, a poet himself and his wife Elizabeth an artist, work out of their studio in Loveland,Ohio. For the last few years they have been sponsoring poetry readings in our Cafe every few months highlighting the work of one or two poets an evening from their large roster of talent.
On the evening of May 19th, we helped them to put on a fundraising event that took place in our Cafe. It started off with a special Italian cocktail we christened the POET which was a festive mixture of prosecco, campari, a fresh apple slice with a sprig of fresh mint. Mandy made a beautiful charcuterie tray to start off the evening. As the guests arrived, live dulcimer music was performed.
After their 25 or so guests were seated , select poets read from their anthologies between lively conversation and eating their dinner which consisted of a fresh berry and spring green salad and our house made spinach and asiago quiche. For dessert chocolate mousse and eclairs were served as more poetry filled the air.
I mention all of this to inform many of you who enjoy the Cafe or Tearoom during the day for lunch,tea parties and showers , that these unique spaces can be rented for evening parties and events as well. Consider special birthday celebrations, small fundraisers or a unique venue for sales or information sharing. After the sun goes down, you can linger over conversation, wine and delicious food in our unique location. In case you didn't realize, it we now have a full liquor license to accommodate all kinds of fanciful libations.
Contact Jessica in the Cafe with inquiries.Jessica@bonbonerie.com