Calling all Artists!!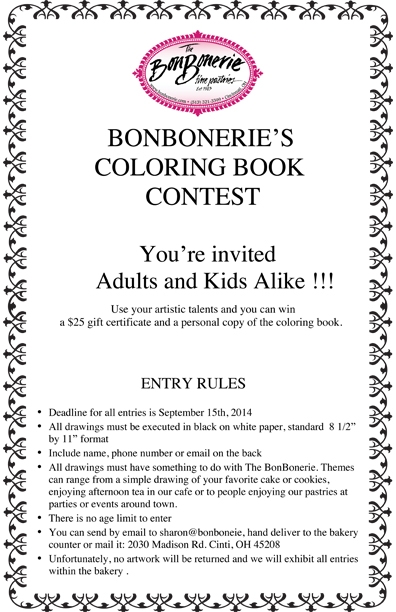 BONBONERIE'S
COLORING BOOK
CONTEST
You're invited
Adults and Kids Alike !!!
Use your artistic talents and you can win
a $25 gift certificate and a personal copy of the coloring book.
ENTRY RULES
Deadline for all entries is September 15th, 2014
All drawings must be executed in black on white paper, standard 8 1/2" by 11" format
Include name, phone number or email on the back
All drawings must have something to do with The BonBonerie. Themes can range from a simple drawing of your favorite cake or cookies, enjoying afternoon tea in our cafe or to people enjoying our pastries at parties or events around town.
There is no age limit to enter
You can send by email to sharon@bonboneie, hand deliver to the bakery counter or mail it:2030 Madison Rd.Cinti,OH45208
Unfortunately, no artwork will be returned and we will exhibit all entries within the bakery .