Camping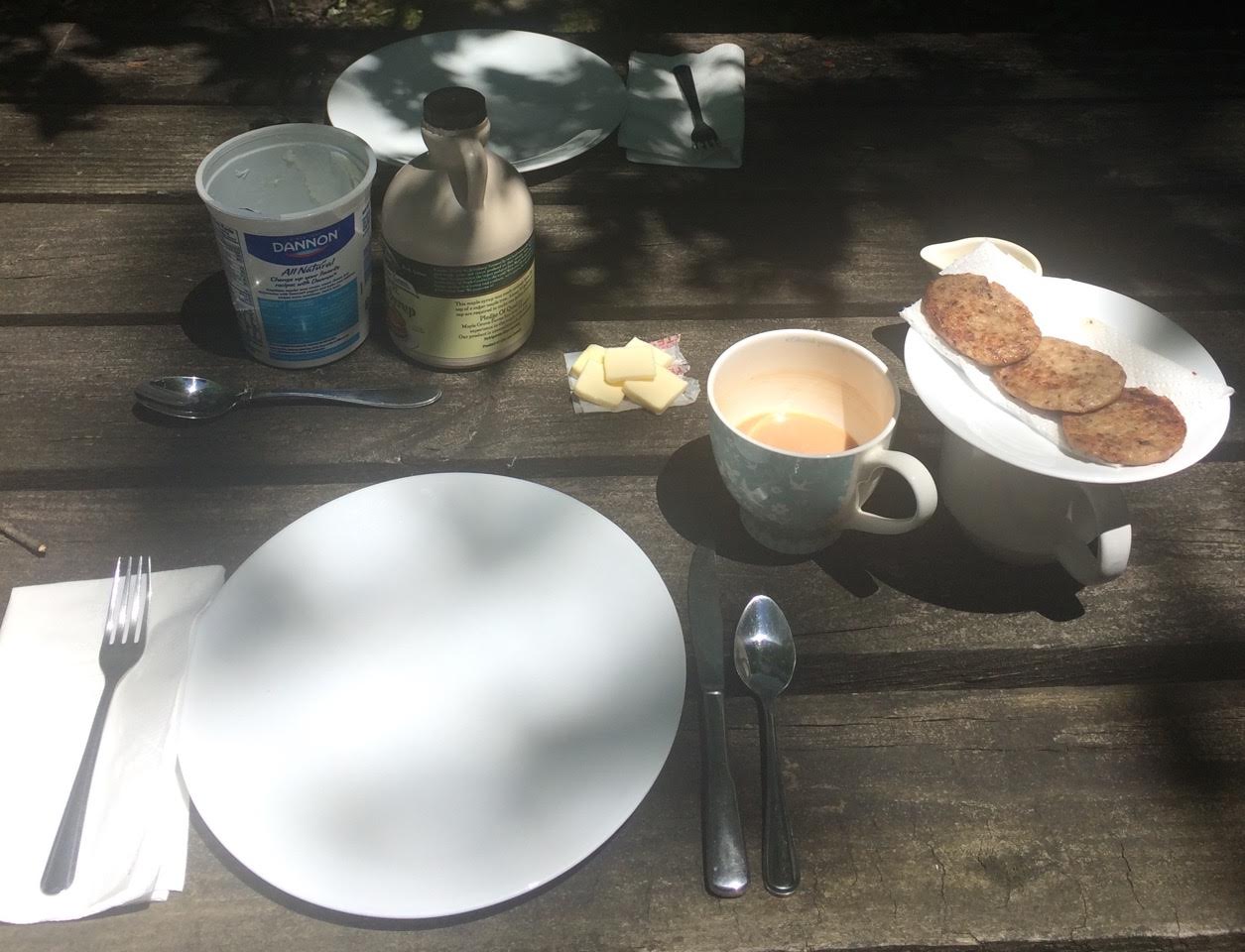 June 6, 2016 Babcock State Park, West Virginia
I am sitting in a cabin in the woods West Virginia. My husband is reading the paper over in the corner because I started a BIG fire in the fireplace . There was a bit of a chill here in the mountains. We love it here, but when we come for a few days or a week , we always have to bring all of our food. It's like camping, but different as it does have a tiny refrigerator, an electric stove and the most minimal cooking utensils in the world . I know they all came from the dollar store and everyone knows no knife in any cabin anywhere is ever sharp.
I start a week before we leave to lay out the food items and utensils we need to take with us. Two sharp knives , a cutting board , one cast iron pan and one good saucepan, salt pepper. garlic, onions,vinegar ,oil, sugar, etc. etc. etc. If you like to eat well ,you have to work at it . That is the conclusion we have come to. The other conclusion is that you cannot shop for groceries once you are here because the closest grocery has never seen fresh produce and the meat is frightening. So we lug it all down there. We stay at Babcock State Park, upon a recommendation from an old friend,Barbara Jenkins, who used to cater and cook for Silver Sage Catering. I send her a postcard from here every time we come because we like it so much.
The cabins were built by the Civilian Conservation Corps in the 1930's. You cannot see your neighbors cabin and to get to your front door there is at least 50 and up to hundreds of steps before you even see the door. A steady hum rises up from the wide creek banging against the garage sized boulders. It sounds like the ocean.
It's all magical once you unload all your stuff, but sometimes I wish we liked frozen or packaged food instead of bringing a miniature version of my kitchen.
But of course on vacations of any kind, food is part of the raison d'être of the trip. So it is no different here. In fact it takes an underused discipline to focus meals for an entire week, eating the most perishable first and working your way through the rest of your pantry till the final day.
Tonight while preparing dinner I was thinking about the camping I did as a girl scout. The most mysterious thing we made were baked beans buried in the ground over hot coals from the night before's fire. We prepared spam with a Hawaiian twist on top of a coffee can.This entree consisted of a slice of spam, a ring of canned pineapple covered with a slice of Velveeta cheese. I thought it was wonderful and my mom let me make it for our family one night.I loved that about my Mom. Another of my favorites was the quintessential brownie stew. This consisted of browned ground beef with Campbells vegetable soup poured on top, stirred and served. Perhaps it was the smoky fire that made it taste so good or the fact that it wasn't just a hot dog on a stick, but I learned way back then that just because your kitchen is compromised doesn't mean you have to eat with any less savoir faire.
Sharon Butler
Co-Owner