Chuck's Birthday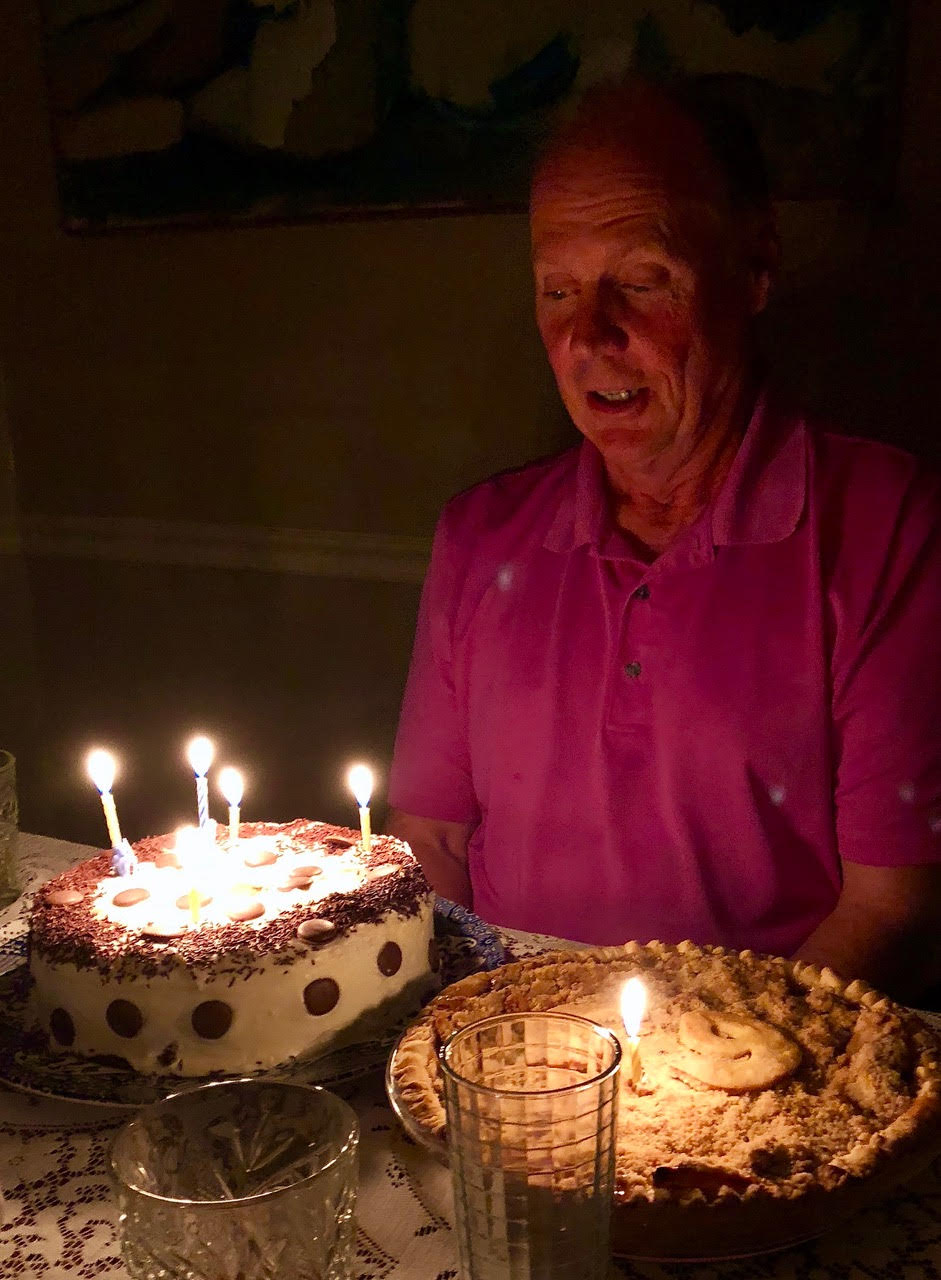 These are pictures of my two brothers Peter and Chuck. It's Chuck's birthday. He has a dilemma as you can see. He has a cake and a pie to celebrate his birthday. What to eat first?
             I do love everything about celebrating birthdays. It's the amazing day we entered the world. Everyone has one and for most of us it really matters.  Whether it's your birthday, a coworker in your office, someone in the restaurant you are eating in or even your dental hygienist, we gladly offer them a happy birthday wish. It's a way of saying it's a bit of a miracle that we are actually here on planet earth. Welcome.
            Back to my brothers. I knew we were going to celebrate Chuck's birthday, so I decided to make him my Mom's traditional birthday cake called a number cake. Mom would bake it in a flat topped bundt pan which she always iced with a runny vanilla icing glaze that flowed down the sides, then covered the top with a solid sprinkling of chocolate jimmies. It was simple. It was what we would count on to share at the kitchen table after blowing out our candles.
            My brother Chuck has a sweet tooth which I am grateful for. He and I have that as the same genetic bond. Thank goodness. As young adults, I would make him a homemade apple pie instead giving him a present for his birthday each year. This pie was rarely shared at the birthday table but stored away in a secret place for him to enjoy for the next few days. I remember asking my Mom if I could have a whole can of whipping cream for my birthday one year to squirt on whatever I wanted. She agreed. I imagined Chuck feels the same way about his apple pie.
            My other brother, Pete, who until recently lived in Carmel California for the past 40 years, was unaware of the pie tradition we had going on. When he found out about it,he volunteered to make his big brother a birthday apple pie while I made the cake. Pete's sweet tooth is tepid, but out in healthy California it was his job to make the birthday cakes for his family. He would sometimes call me asking for a recipe, but his specialty ended up being pies. His favorite was Lulu Harlan's apple crumb pie from his favorite cookbook, Recipes for Living in Big Sur . Without that cookbook, he ended up making it from memory with some support from The Joy of Cooking.  All this activity started about ten o'clock the night before the party. It was great fun baking together in honor of Chuck's birthday next to Pete, especially since as kids we never started doing anything til after ten. Before he left for California, the night was always young.
            I love both of these pictures as you can see there was joy in the making and the joy in the receiving. Happy Birthday Chuck.
Sharon Butler
Co-Owner