Coney Island??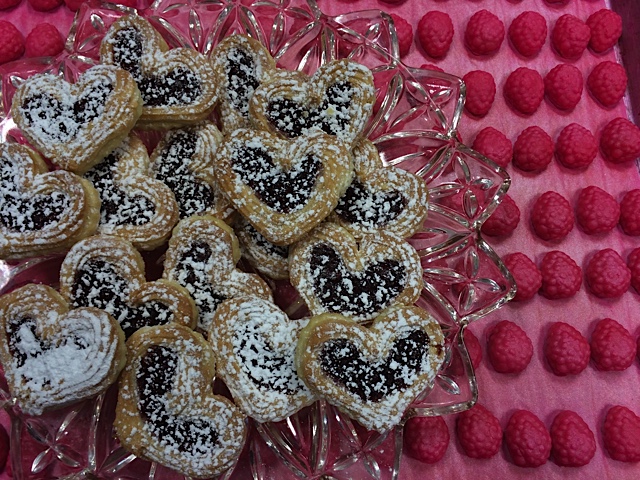 Today Erin Powell, one of our service people at the counter , had a customer inquire if there was a story behind the Coney Island heart cookie. She had ordered many dozen of them for a party she was throwing. It made me smile to think that someone was curious.
There are actually two stories going on with the Coney Island hearts. The first is keeping alive in my heart and perhaps in the minds of people who enjoy the BonBonerie my affection for Old Coney Island. As a child, it represented so much pure summer joy; the rides, the games and the fun food. I can still see salt water taffy being made. There was a rhythmic pushing and pulling of a huge glob of colored sugar to create the perfect texture to form the pastel colored taffy, each piece perfectly wrapped in wax paper. It tasted so fresh and real especially since we watched it being made. There was also the smell of the fudge shop and those giant slabs of marble that were apparently a necessary element to making great fudge. I had only seen marble like that before in churches. There is also nothing more ethereal like the smell of freshly twirled cotton candy. Its' pink and bilious shape and idiosyncratic burnt sugar aroma is like nothing else on earth. Turning sugar into all these various and magical substances added to the pleasure of going to Coney Island for me so I awarded the heart shaped cookie with its' name.
The second reason this cookie is in the shape of a heart has to do with my deep affection for Virginia Bakery. My Mother stopped there when we were children after we saw our pediatrician on Ludlow Avenue. We did not live in Clifton so a stop at the bakery was a huge treat and could diminish crabbiness that a doctor's visit could otherwise evoke. My affection for Virginia Bakery's pastries started early and continued through part of my adulthood until they closed. One of my favorite cookies there was a crescent shaped almond cookie filled with a bright tasting raspberry jam. It was dusted with powdered sugar just like ours. I did my best to replicate that beautiful taste in the Coney Island Heart. I think it is close.
Sharon Butler
Co-Owner