Do you really have a birthday if it happens in January?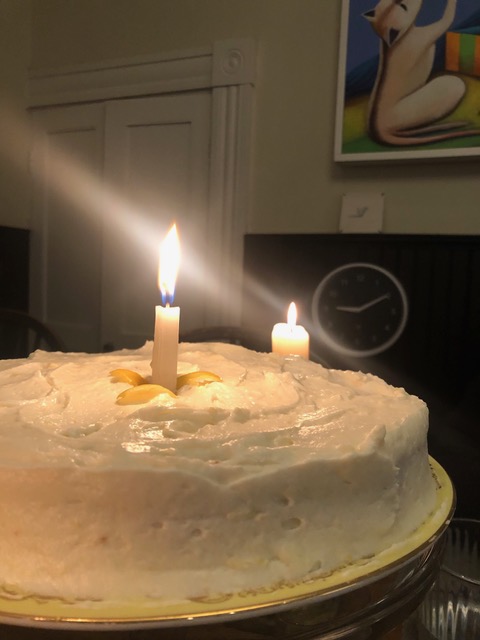 My birthday is January 2nd. As a child I used to celebrate it with my younger brother Peter. His birthday is January 4th. I enjoyed sharing it with him because all the attention wasn't on me. We would blow out the candles on our cake together, not worrying if we missed one as we knew our sibling would help us out. Being Capricorns created a bond between us that lasted our entire lives. We are the goats that plodded along up the mountain of our sometimes rocky childhoods: our crazy Grandmother living with us, family money troubles, understanding my Dad's untimely death from cancer. As the youngest of siblings, we were solid. We even had our own invented language we would communicate in. I suspect that was to protect ourselves from some troubling times. But honestly, most of my life and my birthdays on Pinemeadow Lane were wonderful.
But I do remember one less than ebullient birthday. It was my thirteenth. I always had a vivid imagination and I thought at thirteen I would transform into some kind of teenage princess the world had been waiting for. Choosing your favorite dinner was part of the privilege of being born in our house. Because of my entry into adolescence, dinner that year would be my choice alone, no little brother compromise, but I couldn't decide and left it up to my Mother's inspiration. Would it be pork roast with mashed potatoes and homemade applesauce, a ham steak with fresh pineapple on top, or maybe leg of lamb with mint jelly and twice-baked potatoes? No. It would be none of those. Instead, it would be sloppy joes. WHAT? I couldn't even bear hearing the word sloppy associated with my thirteenth birthday and burst into tears. After eating my "retched" dinner, it was time for cake. It was the cake my Mom always baked for family birthdays, a 1.2.3.4 cake, with the usual runny icing that barely covered the top and slid down the sides to make a tiny pool of icing around the plate. Gross. Why couldn't she have bought me a cake from the bakery for once? I begrudgingly blew out all thirteen candles by myself. I had become a certified miserable teenager.
I am writing about this today to encourage all of those souls born into this world post-New Year's Eve to know that we need to work harder than some to create a happy birthday for ourselves. Our family and friends are frankly a bit burned out from too much celebration so when we invite them in early January to yet another party, they agree to come because they do love us, but they often arrive with a yawn or a hangover.
On my birthday this year, I made a concerted effort to have a simply wonderful day. My husband and sister Maureen were by my side. I first made reservations for all of us to see the Duveneck show at the Art Museum, which was wonderful. I miss visiting our voluptuous art museums and galleries, which have been closed of late, so this was thrilling. Next we found ourselves at Maureen's favorite coffeeshop in Mount Adams, Bowtie Café, for coffee and a snack outdoors, then headed off to more art at my favorite gallery, Manifest in East Walnut Hills. I was practically delirious. We dropped Maureen back at her apartment and Karl and I headed home after a visit to my favorite store in the city, Legacies, where I bought a lovely little pastel I had been eyeing for a month. A gift to myself? I like it.
I had gathered all the unopened cards and gifts that friends and family had sent through the holiday for my birthday to open after I blew out the candles on my cake. But wait. There was no cake … yet. So I opened Joy of Cooking, found a recipe for white cake, one of my favorites, and baked it. We took our dog for a walk in the neighborhood while it was baking. The smell of cake baking in the oven as we returned was a gift in itself.
We called in an order of ribs from Montgomery Inn Ribs King and when Karl left to pick up our order, I made a fresh lemon frosting. Once it was cool enough, I iced the cake and felt the very joy the rest of you feel when someone makes you a cake for your birthday. I didn't realize making one for myself could bring just as much joy. I placed a single candle in the center and kept it lit as we ate our ribs. I had to replace the candle once to keep that light on for as long as I could. Karl cleared the table and he sat my birthday bounty all around me.
I was enchanted by the day, the ambient candlelight, and the good wishes and gifts from friends that were before me. We both sang Happy Birthday. I blew out the candle and cut a slice of the freshest cake I have ever eaten in my entire life. It was delicate and scrumptious. I don't think I will ever forget how it tasted. I read each card out loud and opened gifts one by one, immediately texting a picture and a thank you to the gift-giver. We sat at the table in the kitchen for the longest time, not even thinking of heading to the living room to watch a bit of television before heading to bed. I was so content.
I'm actually learning late in life that often happiness is there in our own hearts and minds. We must not wait, however, for the world to be "right" for us to enjoy being alive. Our candle will blow out, one day forever, as it should. Until then, look forward to the candlelight on your next cake. It's your birthday story and it matters, most of all to you.
Sharon Butler
Co-Owner