Good Day, Good Night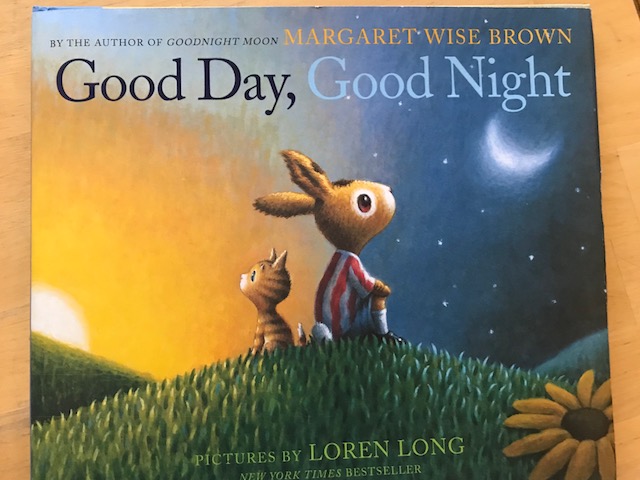 The other day I went to meet an old friend for lunch at the Joseph Beth Cafe. She owned a bakery here in Cincinnati when she returned from the Peace Corps many years ago. She ended up working at The BonBonerie for awhile before she started her next career in the corporate world. I was heading into the Cafe when Kelly, a young woman who also used to work for the BonBonerie ran up and said " I am so glad you are here today. I have something for you." She told me she was now working at Joseph Beth and she was off to fetch the surprise. Wow, what a great way to start my day.
In a few moments she rushed up with a children's book in her hand. "Do you know who Margaret Wise Brown is?" she said. I thought for a moment and thought how could I forget the cover of Goodnight Moon with her name written across the bottom.
She continued with a most amazing story. She had been at a local book fair the past weekend down on the banks. "Did I know another children's story by Margaret Wise Brown had been discovered and an illustrator from Cincinnati, Loren Long, had been commissioned to draw all the illustrations for it. Here it was." she said. She handed me a copy that she said was for me. The title is Good Day, Good Night. I was puzzled at first as to her reason for excitement until she continued her story.
As the main character, who is a bunny, goes about his day, he meanders through his town on his bicycle where he passes a little bakery called the BONBUNNRYIE. Kelly let me know this was no coincidence. It was such an honor to hear that not only was Loren Long from Cincinnati but he was also quite a fan of The BonBonerie and so named the bakery in the bunny's town ,BONBUNNRYIE to celebrate his affection for us.
I am often stunned by all the wonderful gestures that come our way while serving our lovely patrons.
In the front of the book Mr. Long wrote "To Sharon and MaryPat- Cheers to the BonBunnyrie!".
We will cherish this acknowledgment and this beautiful book forever, amazed that we were given such an honor by Loren.
By the way, you can purchase Good Day, Good Night at Joseph Beth Bookstores and hopefully at the BonBonerie very soon.
Sharon Butler
Co-Owner