Guest Baker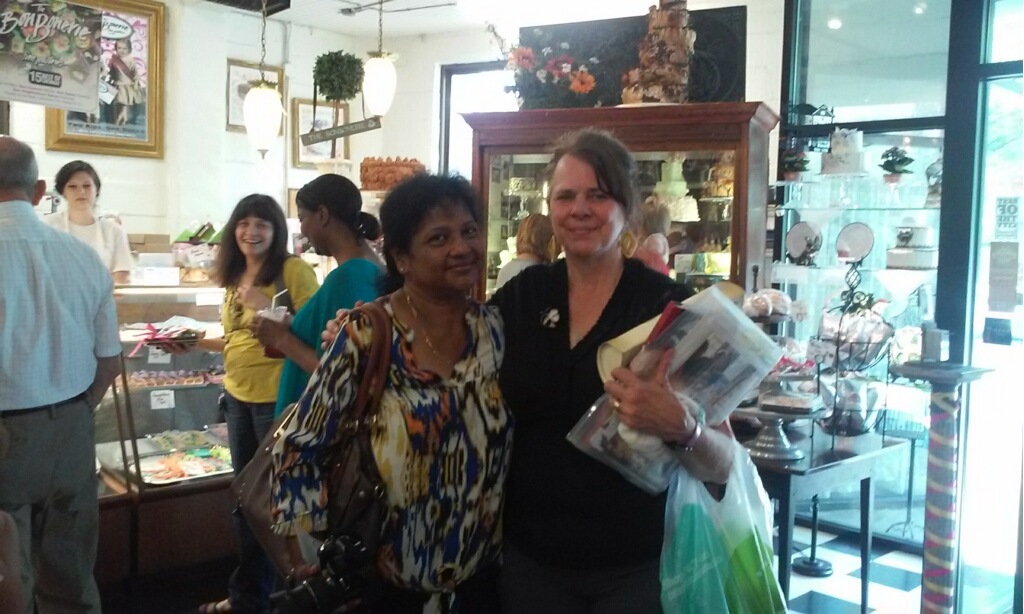 Guest Chef
Today I was bustling around upstairs in the bakery. When the seasons change it is my joy and job to decorate the store. I enjoy doing it and I think it matters to create the right environment to enjoy pastries. All the work that our bakers and decorators do need the right place to show them off. As I am standing in the lobby ,a woman with 3 or 4 others with her asked if I worked here and if it would possible for a kindred baker and decorator from SriLanka to take some pictures of our decorators . She handed me one of her business cards. It read Cakes by PUNYA Mahawithana. There was a beautiful example of one of her creations on the card.
Our decorators were in the throes of finishing their beautiful wedding cakes . I said yes, of course to her request , and invited her behind the counter to where they work . With her marginal English she expressed her delight, had her picture taken with them and opened her phone to share the pictures of her cakes with all of us. It was this spectacular moment of sharing that makes me so happy that we never put up a wall to hide all the great things that usually happen behind closed doors.
I really believe creating food and especially pastry is a real Art. So many of the people that have graced our staff have had degrees in art or a passion to just make beautiful things.
The ephemeral nature of preparing food is also like theatre. There is a new pastry show each day and you have to be at your best each day to get the applause.
Sharon Butler
Co-Owner