Handyman Badge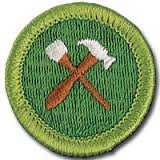 The Handyman Badge
I imagine for some people the idea of owning a bakery is a dreamy idea. In this dream the day probably starts just as the sun begins to rise. I make a cup of coffee, and arrive at the bakery to enjoy a freshly baked cinnamon roll made by the "really early baker" which I immediately enjoy with another cup of delicious coffee and then proceed to begin making whatever I feel like followed by decorating a cake or two. Then I read cookbooks during lunch to come up with the perfect cookie to try after lunch followed by all my messes magically cleaned up when I am ready to head home for the day. That sounds like a dream job. And it is. But it isn't mine.
When I arrived at work on a very very hot and humid summer day in July, our wedding coordinator reminded me how no one but herself ever emptied the water bucket of the dehumidifier, even though I insisted I thought that I was the only one, and the tray that I had custom made for dispersing the water from the portable air conditioner broke and now she had to use an antique glass cake plate because nothing else would fit and it actually spilled water all over the floor as she walked to the sink. What this translates into is "Please solve this terrible problem I have because I think that is your job." It usually is.
So I made a list of what I thought I needed, looked around to see if there was something else broken and headed off to the hardware store. I spent time with one of the numerous human helpers at Ace Hardware, who I greatly appreciate, and left with handfuls of stream of consciousness problem solving objects including dowel rods, batteries, wallpaper paste, two different kinds of rubber tubing, a fresh pack of razor blades, 4 D batteries and a plastic plant saucer.
When I am running errands I often call my Mom. Today I called her to let her know that if it wasn't for her showing me how to put new plugs on lamps, repair broken toilet handles, replace the ring on a leaky faucet or to yank giant unwanted bushes out of her front yard with her car and a rope, I would probably not be able to own a bakery because fixing things that are broken is what I do a lot of.
"Was it our practical Gramps?" I asked, who had taught his only daughter how to take care of broken things. Her answer was no. She told me when she was in the Girl scouts there was a badge offered called The Handywoman Badge. No one had signed up for it but my mother. She didn't remember who taught it, but she learned all of those wondrous things as a young girl, daughter of a firemen and a teacher and luckily passed it on to me which has probably made it possible for me to own a bakery.
Sharon Butler
Co-Owner