Hot Summer Day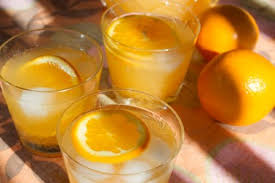 Today is a very hot summer's day. I enjoy watering my garden and the potted geraniums I grow on the porch. We live in a house that was built in 1905. Most of the residents that lived here before us never knew air-conditioning. There are transoms above each doorway that provide air movement between rooms. I am sure that the front porch was the favored "room" to sit in on a hot afternoon. There was a breeze out there today, even though the thermometer on the back porch read 93.
My joy in watering plants and of squirting everything down with the water hose brought me to my grandmother's front porch where we lounged about on the summer days of my early childhood. The porch was big enough to hold a heavy metal glider that all four of us could rock back and forth on at the same time. Sometimes we were given jobs at Granny's house, one of which was hosing that concrete porch to get rid of the summer dust, then sweeping the water off with a broom. The smell of wet concrete to this day makes me think of Granny. It was there that she would help me cut out paper dolls, provide miniature cups for afternoon tea parties or tell all of us stories of a fictitious boy named Albert and his watermelon as we idled away the hot days on that glider.
Today I heard an ice cream truck's musical invitation from across the street. A lot had to happen in a short time to secure a frozen treat from the traveling ice cream vendor on Martin Drive. We first had to find Granny for some money, then my brother Chuck would usually sprint down the street ahead of us making sure to stop the truck in time for us to buy something cold and sweet. There is nothing like an icy cherry Popsicle to diminish the heat in a moment.
When I thought about writing this, I decided to make a pitcher of Granny's signature orangeade. It was freshly squeezed lemonade with slices of big juicy oranges floating on the top to add a touch of sweetness. She served it to us on the porch from a big globelike orange glass pitcher surrounded by matching glasses. A glass of her ice cold orangeade was another antidote for being hot.
I was fortunate while writing this today, to witness another wonderful summer experience, a cool blustery rainstorm. I remembered running down the steps from Granny's porch and out into the rain. We would face the sky laughing and screaming for joy running in circles in celebration of nature's reprieve from the heat. We were truly one with summer on those days, living with nature as a partner to our pleasures.
Sharon Butler
Co-Owner