How Many Cookbooks Does a Person Need?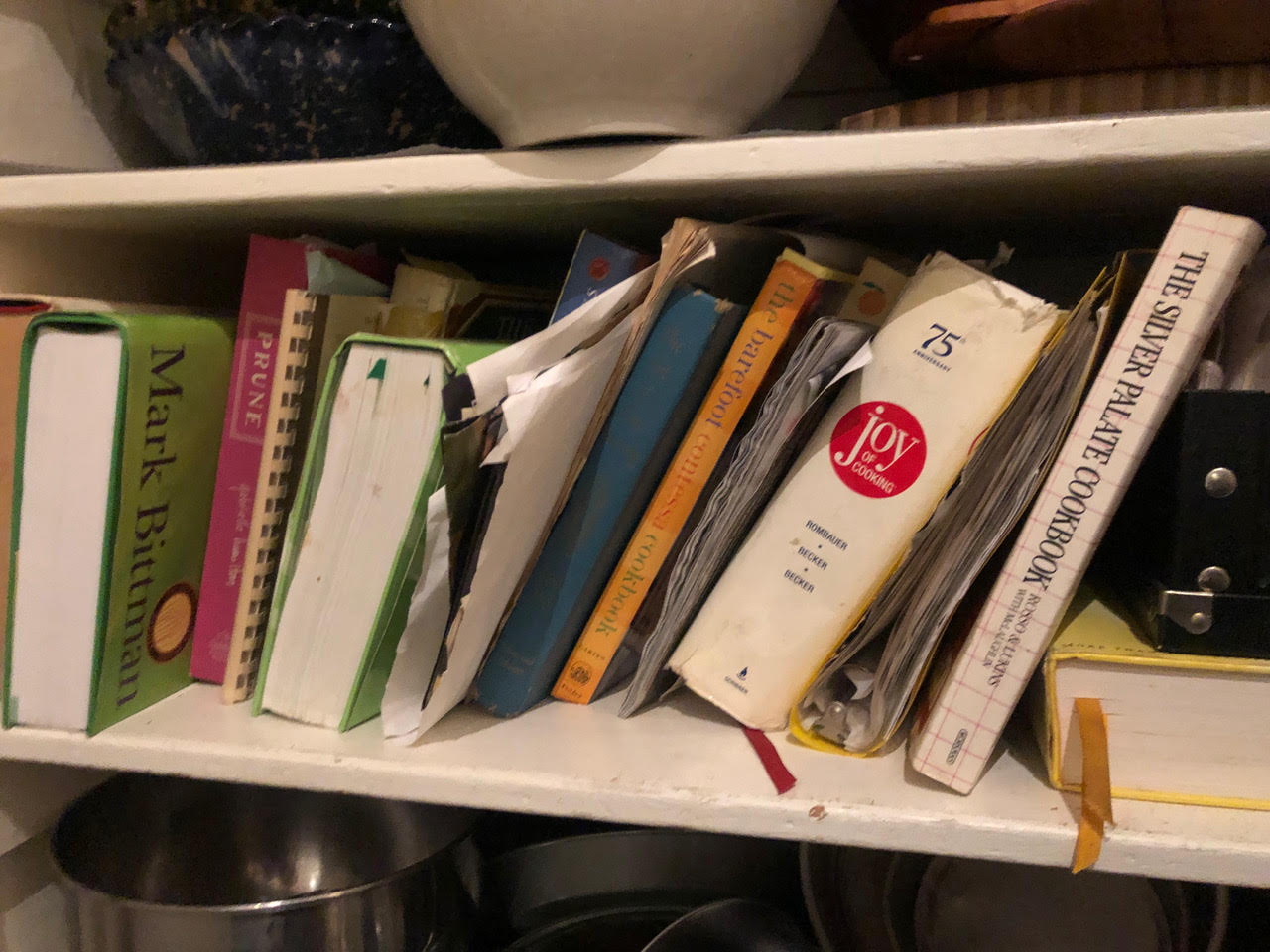 COOKBOOKS… How many does a person need?
My husband always confers with Google if he is going to cook. He usually pages through the first four recipes on his phone and chooses one of those, which he prints and uses as his cooking guide. I've asked him why he doesn't use a cookbook. He doesn't really have an answer, but it doesn't hurt that gathering recipes from the internet is so fast. I'm glad he is cooking, but sometimes I just want him to dive into one of the forty or so cookbooks we have in the nooks and crannies of our house. I know there are great recipes in them because I've made, eaten, and served many of their contents. The thing I respect about cookbooks is that, especially with ones written before the preponderance of recipes on the internet, a cookbook writer had to perfect all their recipes before the book could be published.
Most people I know today ask Google or Alexa for their choice of "best" beef stew or strawberry tart. I'll admit I use them on occasion, but for serious cooking I put my trust in a cookbook author with a philosophy, vision, and purpose bigger than creating a single recipe. I want to know their reason for writing a cookbook. Was it their tremendous success running a bakery or restaurant, was it because they taught cooking classes for years, was it because they wanted their readers to have the tools to change their diets to healthier fare? Or perhaps it's because they were afraid that a deep history of talented family recipes could be lost forever. Are those good enough reasons to trust their opinions? Absolutely.
It took Julia Child almost ten years to perfect Mastering the Art of French Cooking. I admit, I haven't cooked out of it often, but when I want to make coq au vin like it was meant to be made, I will follow her impeccable instructions to a T. I love Ruth Reichl's cookbook A Kitchen Year. The title refers to the year after Gourmet Magazine stopped being published permanently, where Ruth was the editor in chief. After its closing, Ruth retreated to her country home and started her healing process by cooking, eventually turning that experience into a wonderful cookbook.
Years ago, on a serendipitous visit to Gayle's Bakery in Capitola, California, I was stunned at how delicious everything they made tasted and looked. As I was paying for my pastries, I noticed a cookbook at the checkout counter and without hesitation added it to my order. I was completely in awe of their accomplishment and looked forward to learning how they did it. Their opinion and techniques were definitely worth studying.
The other night I made Chicken Marbella for my family. It was the most requested chicken dish at the groundbreaking catering and gourmet shop The Silver Palate in NYC. It's absolutely delicious and every time I make it, my guests agree. The two founders of the Silver Palate probably didn't start off with the intention of writing a cookbook, but after cooking with so much success, they were encouraged to write one. I am so grateful. I trust their recipes because of their experience and success.
My Uncle Jim was a pilot in the Airforce. A bit of a lady's man, who didn't marry 'til he was into his forties. But when he married Pauline, he was the happy husband of a woman who loved to cook and collect cookbooks, especially the kind that came out of small-town communities across the country. The kind of communities that Uncle Jim and his wife moved in and out of as a member of the armed services. When Pauline died, Uncle Jim gave me two full boxes of historical journals full of personal favorites shared at Christmases, summer potlucks and dinnertimes across our country. I treasure them as a glimpse into a way of life that provided a generation of women a way to be recognized for their personal accomplishments made immortal in a recipe. Who wouldn't want to make Margaret Hallman's recipe for Uncle Ed's favorite fudge or Ellen Burrough's Italian Zucchini Crescent Pie? These cookbooks are veritable archaeological digs into the mothers of my childhood.
Owning hundreds of cookbooks comes with a weight to bear. I am in an organizational frame of mind at BonBonerie. The amount of odd cooking tools we have collected for over thirty-eight years is staggering. I have single-handedly collected at least 500 cookie cutters. I bought them to encourage inspiration. Some of them did. So too, hope came with the purchase of so many cookbooks. They are tucked in corners everywhere. When I think of clearing them out , however, I cannot. They helped us create our menu, they supported us when we needed problem solving, they were the experts we needed when things didn't turn out as planned and they inspired us to be better and succeed. These bakers, cooks, teachers, and shop owners did the work. I know that Paula Peck's The Art of Fine Baking will always lead me to a great filling. Lenotre's Desserts and Pastries is a reflection of superb and glorious classic French pastry, with pictures to boot. Their pages are stained, covers torn, and sometimes a stale smell comes out of as you open the pages. They are true cooking companions. I know them after hanging out with them for 38 years in my kitchen and in BonBonerie's.
I am not trying to negate the incredible amount we can learn through cooking videos, but I do love being alone with that tantalizing volume of The Art of Fine Baking. Paula Peck has been dead for a long time, but I know her philosophy, knowledge, and artistry in each hour I've spent baking and eating the contents of her cookbook. My favorite recipes are dog-eared and written on. Her book means as much to me as my mother's rolling pin. They both work flawlessly and I count on them.
Someday I will probably have a cookbook sale at the bakery. I have encouraged my staff to read the volumes that lie in wait on the way to the tearoom. I've only seen one person in the last year taking advantage of getting to know my friends that stand tall on the shelves. They have their own ways. I just happen to like mine better.
Sharon Butler
Co-Owner