It's Here, It's Here!!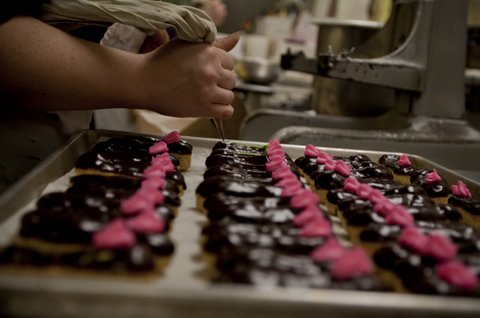 It's here ......It's here.......Almost like children, we get excited about the Christmas holidays too. What do our customers want this year? Does the yule log need another mushroom? What should we do about the decoration on the Holiday Opera Cream Cake? How should the cutout cookies be decorated since tradition dictates that every new holiday season we create a surprise character to keep things fresh and fun.
 After 30 years, we are also very aware and proud of how many of our creations are a part of your family's traditions. Our goal is always the same, to make everything "Beautiful and Delicious" just like they are the other twelve months of the year.
 We will be offering traditional creations like our peppermint kisses, gingerbread men and  Chocolate Caramel Torte as well as our new black Raspberry Chocolate Cake and Gianduja Chocolate Mousse Cups.
 Afternoon Tea is such a festive experience in our Cafe, but remember, reservations are necessary.
For those out of town, we can ship our decorated cookies and six inch cakes anywhere in theUnited States.
It's only 3 weeks of magical "sweet" madness, and The BonBonerie is ready to help make yours extraordinary.
Happy Holidays.
Sharon