It's my Birthday!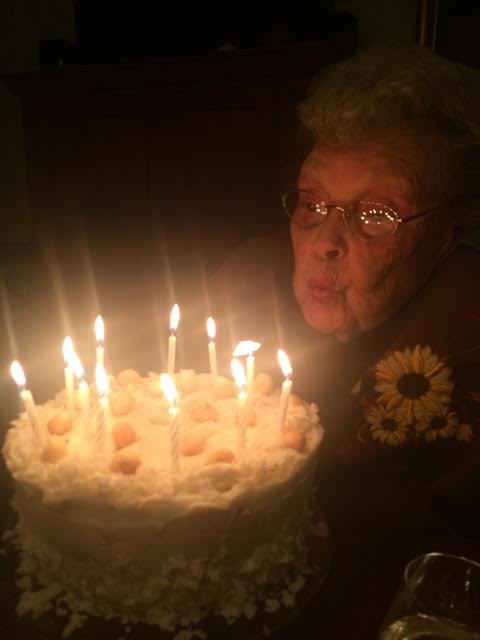 Because it's My Birthday Contest and Art show
This is a picture of my Mom. , born May 16th, 1924. She is holding a replica of the cake her Aunt Mae would bake for her on her birthday. It was a yellow cake with maraschino cherry frosting. She passed away over two years ago, but this picture reminded me of the many birthdays we celebrated with her.
Think about when you were 10, or the big 16, 21, 25 or the big 5-0.Then of course there are all the other birthdays, of no less importance, that we look forward to someone celebrating with us each year too.
Like many of you, my family has also blown out hundreds of birthday candles that sat upon a BonBonerie cake. I am deeply aware of how the BonBonerie has become part of the fabric of many of your celebrations. Many of you are now ordering cakes for the grandchildren for whom we made cakes for their mothers or fathers birthdays as well. I cherish the stories you have shared as you pass me on your way in or out of the bakery clutching your pink BonBonerie bag on the way to the party.
This summer we want to celebrate your family's ritual.
If you are willing to share, we are going to have a gallery of your photos lining the hallway into the Cafe. Each month of the summer we will award a $50.00 gift certificate towards your next birthday cake for the best birthday cake image with or without candles from your celebration. ( birthday did not have to take place this summer)
Please send your chosen image, your name and a brief description to sharon@bonbonerie.com.
We will announce the winners at the end of each month on our Facebook page.
Sharon Butler
Co-Owner