Julia Child and Me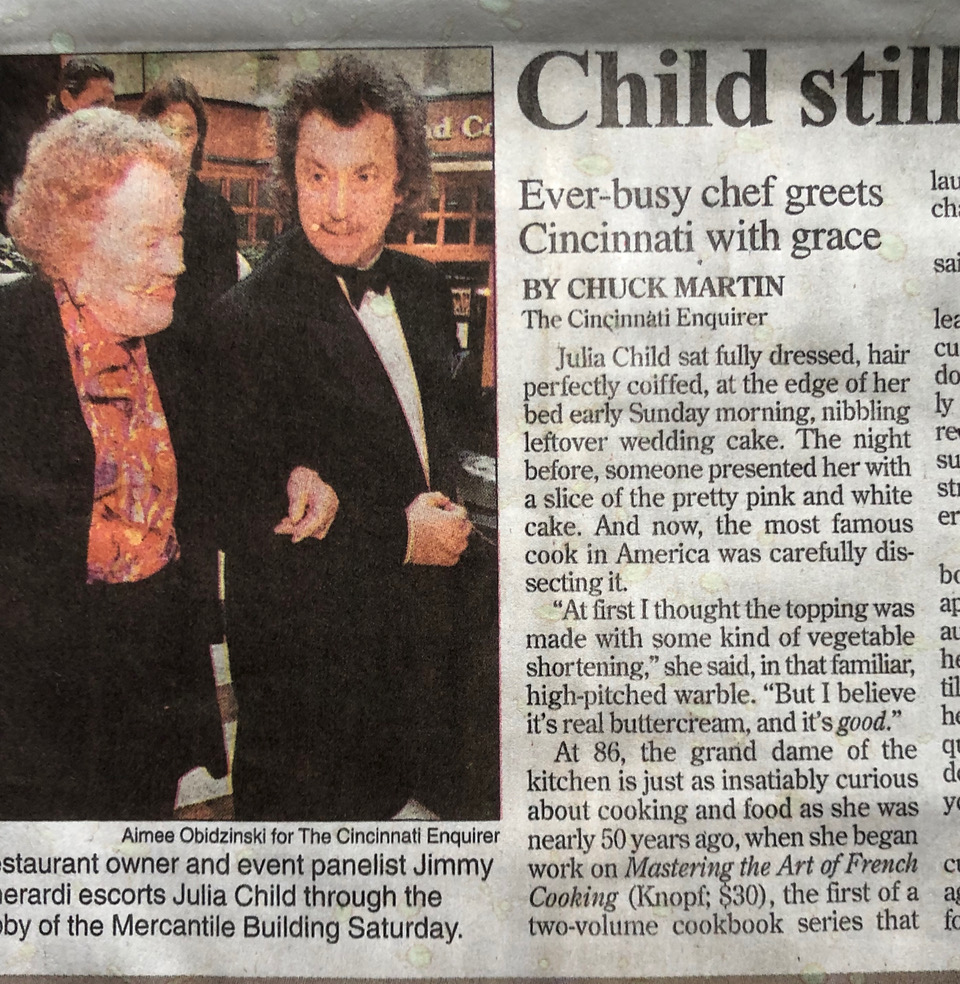 I have never been interested in getting autographs from famous people. It didn't enhance my knowledge or appreciation of them or their talents. Until the other day …
The most surprising things can happen at BonBonerie. Being owned and run by the same two people for thirty-eight years has helped. My partner and I are still bustling around the bakery and café if you want to get in touch with us and we've had the same quirky location for thirty-three years. When I say "quirky", that means the bakery entrance is still found by driving down one-way O'Bryon Street, which frequently causes customers confusion, especially before Google maps started helping with directions. In the late 80's and 90's, there was an actual phone booth across the street on Madison Road. Many a confused customer called us from the booth, wondering if in fact we were a phantom bakery, or even a speakeasy kind of bakery as they looked at the 2030 Madison Road address and saw no bakery there at all. Over the years, numerous customers have shared that same experience with me. When I explained a back entrance had guaranteed a much more reasonable rent, they understood.
A few weeks ago, a couple of women were having lunch in the Café and asked to speak to one or both of the owners. We were both at work that day and came out to see why we had been summoned. After locating them in the Café and introducing ourselves, the inquisitor pulled out a newspaper article from The Cincinnati Enquirer dated November 16,1998. Our guest was quite excited about handing it over to us to read. The article was about Julia Child, who had been the lead speaker at Cincinnati's Mercantile Library Niehoff Lecture Series. It was written by Chuck Martin, the food editor for the Enquirer at the time. The article's opening paragraph was about her stay at the Cincinnati Country Club:
Julia Child sat fully dressed, hair perfectly coiffed at the edge of her bed early Sunday morning, nibbling leftover wedding cake. The night before, someone presented her with a slice of pretty pink and white cake. And now, the most famous cook in America was carefully dissecting it. "At first I thought the topping was made with some kind of vegetable shortening, " she said, in that familiar high-pitched warble. "But I believe it's real buttercream , and it's good."
WELL….
The woman I was speaking to then told me the cake Julia Child had eaten was in fact her wedding cake that BonBonerie had made. Coincidentally, she mentioned that she unfortunately hadn't had a chance to even eat a piece of it herself. But she had been saving that article for 22 years to eventually share with us. I was completely stunned. Do you mean Julia Child ate something that we made and thought it delicious? Julia Child, the cultural icon whose kitchen is preserved in the Smithsonian, the same Julia Child that taught America how to take cooking seriously with her wonderfully entertaining television shows. I could go on and on, but now knowing that Julia Child ate a cake that my partner and I created was such an enormous gift to me! Julia Child had actually eaten something I had made and liked it!!!!!
In a strange way it felt like I had shared my autograph with her.
The second part of this story has to do with an actual autograph. My mother-in-law, Lucretia Dye, was a librarian, a bibliophile, and a stage door groupie. She had stacks of playbills from plays she had seen in NYC with autographs of numerous actors and many books signed by authors too. When Julia Child came to Cincinnati to promote her Julia Child Baking Book, Lucretia bought a copy for me as a Christmas gift. Thanks to Lucretia's stamina, it included a hand-written message to me. It was simple, but personalized: "To Sharon, Julia Child." Now when I open that cookbook, I feel connected not once, but twice. She knew my name for a moment, but more importantly she tasted my passion for baking over at Cincinnati Country Club that morning in November.
I am so grateful to Robin Wright Walker, who will have been married for 23 years in November, for having taken the time and the trouble to have brought us that very old newspaper, and truly to have considered what those five sentences could mean to us. I will treasure that knowledge forever and I am deeply grateful to both Robin and Lucretia. Surprising things certainly do happen at BonBonerie, even after having done this for thirty-eight years.
Sharon Butler
Co-Owner