LOVE for Postcards and the Post Office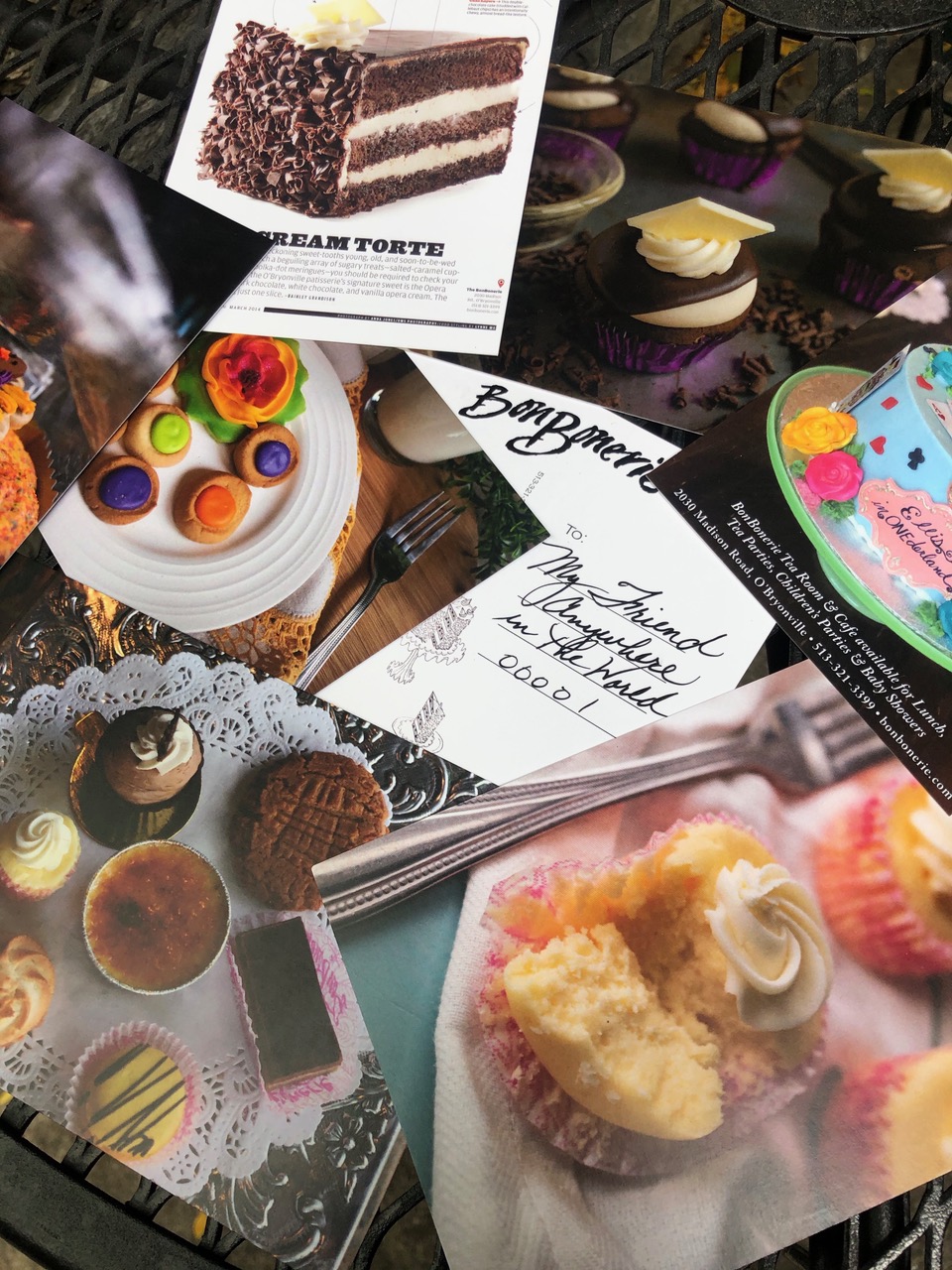 The US Post office has been maligned lately, which from my perspective is greatly undeserved. I thought about them after reordering the complimentary postcards we offer to our customers. Hundreds of varieties of them have been taken from counter of the Bakery and Cafe for as long as I can remember.
For some, the humble postcard may seem rather insignificant, but perhaps it was the harbinger of texts or tweets in its diminutive size and small space allocated for actual message writing. I have sent hundreds of postcards to friends and family with greetings from places near and far. I have combed through antique postcard collections at flea markets in search of beautiful birthday greetings or exotic destinations that I have often used to decorate the BonBonerie. Some are little works of art.
The miracle of this simple 4x6 piece of stiff paper is that for a mere thirty-five cents, someone will hand-deliver your personal message to whomever you choose to send it to in the entire world. Nowhere is too far. I take this promise from the United States Postal Service as a given and one of the greatest logistical achievements of modern man. Up until a few years ago we entrusted checks for enormous amounts of money, important legal documents and even revelations from the depths of our souls to be delivered without fear that they wouldn't arrive or be delivered to the wrong person. Is there anything better than getting a hand-written letter in the mail? Like me, I'm sure many of you have saved a letter or two from someone who could only say what was in their heart on paper. Thank you, US mail, for your care in delivering our messages.
I regularly create and print postcards for our customers each season in hopes that they might mail one to a friend reminding them of the time they shared over lunch or a pot of tea. I look at postcards as a creative act of collaboration too. I create them from pictures taken at BonBonerie, have them printed at a local printer, make them freely available to you, you buy a stamp, write your message on them and send them off to a friend or two . The mailman finally delivers them, and the recipient receives a burst of joy in their lives from you.
If you have the time to indulge me, let me know someone you may have sent a postcard to. I haven't kept count of the exact numbers we have printed but it's at least 15,000. There's got to be a few stories on the backs of a few of those, in part because the United States Post Office works so well. Thanks for sharing our postcards with your friends and family. It's been a part of the fun of owning the BonBonerie for me.
I also want to thank our smiling mailman who brings us our mail each day and provides me with one thing at this moment that I don't worry about.
Sharon Butler
Co-Owner