MaryLee, What's in a Name?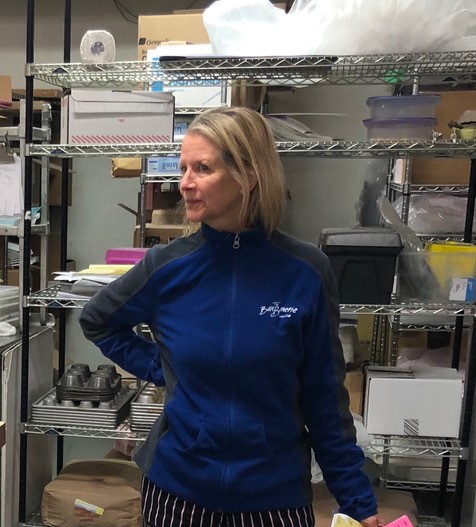 This is a toast to our operations manager, Mary Lee. Her birthday was December 16th.
What's in a name? A lot when the name is MaryLee. We've never had another MaryLee working with us and will certainly never have another one quite like her either. Mary Lee, our present operations manager, has worked side by side with MaryPat and me for thirty-five years as of September 1st. What an incredibly brave woman, who after having worked in a bank here in Cincinnati, decided to go to culinary school to follow her passion. Are we ever grateful that she brought her passion and her tremendous list of skills to our peculiar door located in the back of the Media Center Building on East McMillan in Walnut Hills. She had to be able to see past a rather rag-tag situation as we shared a kitchen with a local caterer, modifying our work schedule to her work load each day. It was there that we really created our vision as a custom cake company (note the bad location for retail) that created signature cakes for restaurants.
Our first menu offered over 40 different tortes and cakes to choose from. What were we thinking? We had talent galore and thought keeping our restaurant customers happy was the key to success.
Mary Lee, fresh out of culinary school and with hours of experience working with a local catering company, brought a serious work ethic, a gift for executing recipes with precision, and a desire to perfect her skills. In the end she found that she enjoyed making pastries more than either banking or catering and we are ever so grateful.
Another attribute that Mary Lee brought to our table was her tolerance for risk. We always had problems to solve and being nimble and resourceful were necessary skills one needed to survive in a start-up company. Perhaps having 8 brothers and sisters was the perfect training ground for picking yourself up when the going gets rough. And it did get rough for all of us. Being women in business in the early eighties was challenging, especially as we all started getting married and having children. But not one of us missed a beat. MaryLee was so progressive. She was the first woman I had ever known to use a breast pump at work. Raising two healthy children was also a top priority.
It always amazes me how different skills rise to the surface after you work alongside people long enough. The thing about working at BonBonerie is that if you have a gift and want to use it, you probably will be able to. As time passed, MaryLee's ability to organize information and follow through with ordering from our vendors while keeping quality and pricing a priority provided us with quality and affordable ingredients that made BonBonerie a more viable company. There are still a few salesmen that enter MaryLee's office with trepidation knowing if the right things weren't delivered, or the prices were wrong, they would be held responsible. Her charming smile didn't hurt her chances of getting what we needed when we needed it, everyone knew she was no one to mess with.
MaryLee also makes sure that every order for your cakes, cookies, and pastries is correctly entered on our daily worksheets so the bakers and decorators get it done and get it right. She is relentless following through to make sure everything is spelled correctly. If there is a question, someone will get a phone call.
The most important thing about MaryLee, however, is that she has always been a woman of her word. There is absolutely nothing flaky about her. She is kind, brilliant at her job and logical with a mind for customers names, menus from the past and how many cakes we will need to make for each holiday. Trying to summarize MaryLee's influence on our success is like trying to describe how much you appreciate your parents. I truly cannot put it into words what she has contributed personally and professionally to MaryPat and me, her co-workers, and to our customers. She is the invisible hand that helped support the living breathing creature that BonBonerie is today.
We all thank you with the deep affection and appreciation.
Sharon Butler
Co-Owner