Maureen's Birthday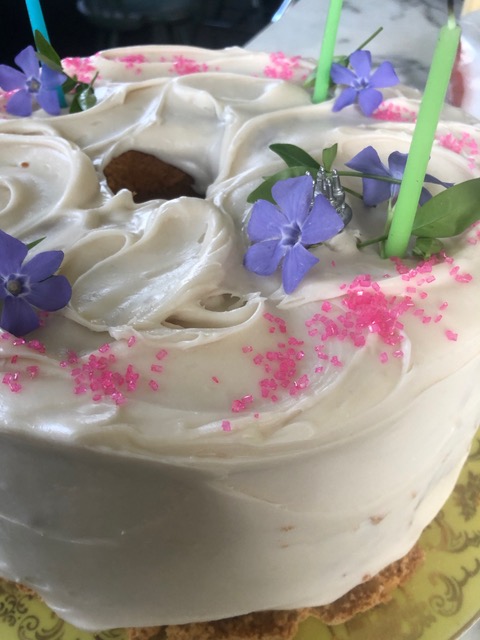 Yesterday was my sister Maureen's birthday. I guess icing runs through my veins. I couldn't stand the idea that a sibling of mine wasn't going to celebrate with cake. Late Sunday night, while rediscovering my ancient recipe box that had sat idle in my kitchen closet for years, I became obsessed to find the recipe for our childhood neighbor's signature cake, Mrs. DeRonde's Sour Cream Pound Cake. I felt like it was in there somewhere, and after perusing dozens of handwritten paper scraps, dog-eared recipe cards and random newspaper clippings, I found it.
Of course, all the "old" recipes are written without specific instructions, this one included. Women of that ilk were not preparing recipes to pass on, they were merely recording reminders for themselves of an ingredient or a temperature, or the "correct" pan to use in their kitchens. These women cooked; they didn't run a kitchen for helpers to follow with clear directions.
If their kitchens were anything like my Mother's kitchen, everything lived in her head and hands day after day after day. We would count on her memory to make the same meals week after week because we loved everything she made, even liver and bacon. She would say it's good for you and I would smother that liver with the sautéed onions and a dash of ketchup, feeling healthier for the rest of the evening.
She had a repertoire of fifteen or so dishes, that we would look forward to such as:
Swiss Steak with buttered noodles
Meatloaf with real mashed potatoes
Pork Chops with canned sweet potatoes and plenty of brown sugar
Pork Roast with oven roasted potatoes
Roast Beef with baked potatoes
"mock" Turtle Soup
Beef Stew
City Chicken with buttered noodles and candied carrots
Spaghetti with meat sauce
Sautéed then Oven Baked Chicken with cauliflower au gratin
Liver and Bacon
…. have you noticed a pattern of carbohydrates? and meat and sugar? There was always a smattering of canned corn, lima or green beans and la Seuer baby peas. I can't remember any salad, but jello with fruit, hot slaw or hot German potato salad which is barely a salad at all.
No one in our family have recipes for any of these except for the "mock "turtle soup, but that is just too embarrassing to share with anyone for the amount of ketchup included in every batch.
So , I digress, but I did find Mrs. DeRonde's pound cake and I couldn't believe I had all the ingredients to make it. Our present shelter in place order, makes it more of a challenge to get inspired and execute at will. I began to mix the ingredients making a gigantic mess. No wonder people come to BonBonerie I thought. The baking time was two hours at 300 degrees.
I was excited after those two hours as I opened the oven door to see a beautiful cake, just like Mrs. DeRonde had made for neighborhood gatherings. I got reignite my baking love too for a few hours in my kitchen thinking about all of our staff and lovely customers who are missing each other.
I let it sit out overnight and the next morning on Maureen's actual birthday, my husband and I conjured up a plan. The rest of the family were planning to connect on ZOOM at 5PM for a virtual birthday party. After icing the cake and decorating it with flowers from our back yard , we cut the cake into sections for those members here in town , left a section on their doorsteps, drove off then notified them of the delivery and got back to our ZOOM gathering to sing "happy Birthday" to dear Maureen, our matriarch.
Sharon Butler
Co-Owner