Midnight Gourmet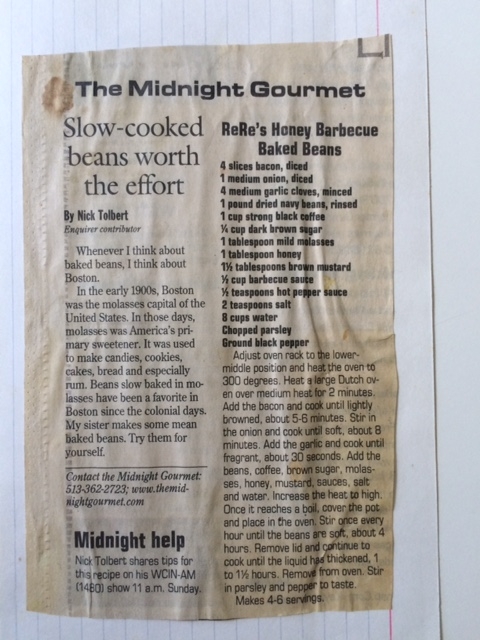 I have a good friend named Lorna who lives in the country. She invited my husband and me to a pot luck dinner party last Saturday. I haven't been to a pot luck for a long time and I desperately wanted to make something that wasn't a dessert, something that said summer picnic to me. One recipe came to mind.
Many years ago recipes were an important part of the Food Section of the Enquirer. I think it was always on Wednesdays and I would seriously seek those recipes and cut them out if they inspired me to cook something new. In a small yellow binder these recipes are archived in plastic sleeves. The recipe I was planning to make was there in the third sleeve, The Midnight Gourmet"s recipe for baked beans.
Many of you may never have met the Midnight Gourmet, but Nick Tolbert was one of the coolest most original food enthusiasts ever to come out ofCincinnati.
I met him for the first time at The BonBonerie He came to the counter, asked if I had a minute to talk with him to see if I would be interested in advertising on his live radio program that aired each Sunday morning at 11AM on WCIN. I had never heard of it before and honestly never listened to WCIN. So the following Sunday, I made a point to listen. He was wonderful. He was on the air mostly by himself talking about cool recipes he had made, restaurants in town and all things food inCincinnatiwhen at the time there was very little of interest about food here to even talk about .Because of his enthusiasm alone, I agreed to become a sponsor and so our relationship began.
Eventually, he invited me to be a guest on his show. I went to the studio over onReading Roadand Nick asked me questions about The BonBonerie. I enjoyed him and so appreciated what he was doing. We came up with a plan after our first interview that let me call in from home on Sunday mornings. I could call in my pajamas, which I love to stay in on Sunday mornings as long as possible, and he would always say " Now Sharon, tell me what is going on at The BonBonerie this week and we would chat for 5 or ten minutes about pastries mostly. It was the rhythm of his questions and his easy manner that I looked forward to.
This happened way before the plethora of food shows available on television today. He had what it took before TV was ready to take it. He had a great deal of experience cooking before he tried his radio idea out, but unfortunately his program ended.
Another of his jobs was writing a column in the Enquirer where he shared many recipes. One of them being his unique tasting baked beans which in the article he says is actually his sister's recipe. No matter, I just look forward for any opportunity to make Nick Tolbert's Midnight Gourmet baked beans, the recipe still cut from the newspaper article preserved in that cellophane sleeve.
Some recipes conjure up memories as do certain smells. I see Nick with his over six foot self with a headful of dreadlocks and I can hear his velvety joyful voice every time a need for baked beans arises. Thanks Nick.
Sharon Butler
Co-Owner