Mother's Day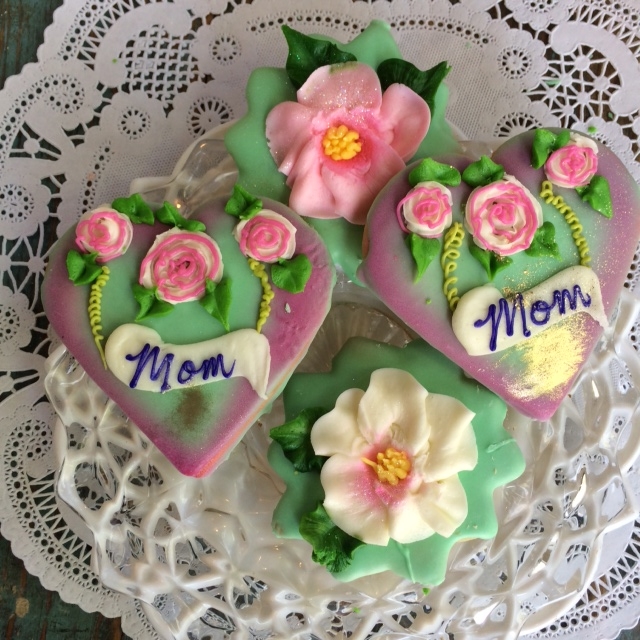 There is a lot of mothering going on at the BonBonerie…… all year long. Our staff Mother each other as they go through rough times at home or at work . A word of encouragement here, a surprise lunch bought for them when the blues have taken hold are mothering techniques that transform small moments.
I often see customers coming in to buy a little treat for a friend in need or as a favor for the nurses who are taking care of a family member. Sometimes it's for a teacher who has gone beyond the norm to help their child or taken to a neighbor unable to drive who would enjoy something special just because it's a Tuesday. I consider that mothering too.
Men can also mother. One afternoon while entering the bakery, a older gentleman, shared with me the story of how the young woman who cuts his hair won't accept money from him, so he takes her a small pink box from the BonBonerie filled with a special treat to thank her.
There are times when I see one of our customer service staff taking extra time to listen to a customer who could use a little compassion on a difficult day. Mothering from behind the counter happens every day.
I have never actually counted the number of babies that have come into the world by the women who have worked here, some of them up to a few weeks before their delivery, but just among eight of our present staff I have counted seventeen children that have been born while they were working here. Women come and go from the bakery and Cafe and I watch as they have to make the decision of a lifetime once their babies arrive. It is rarely easy for them, some who had chosen this as a career , find themselves choosing to stay at home to mother their newborns, others who are supporting their families are back to work after their maternity leave is up. They pump breast milk on their breaks and mother from their phones until they arrive home. Each one is amazing as they figure out the balance of motherhood and being their own person.
So this Mother's Day I want to recognize all of our hard working staff and lovely customers who mother each other as well as their own families with small and great acts of kindness.
Happy Mother's Day to all of us.
Sharon Butler
Co-Owner