My Personal PhotoFocus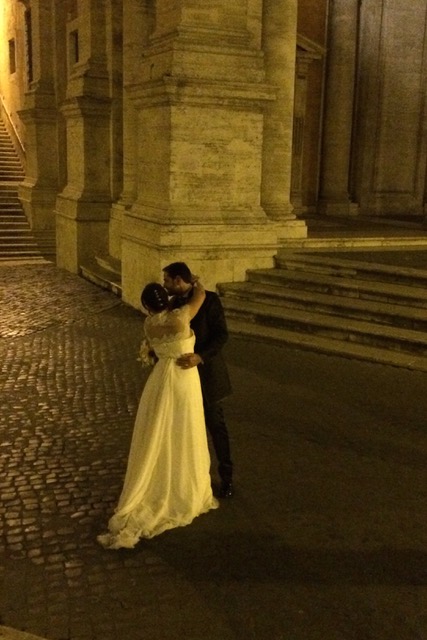 Photofocus Cincinnati, a citywide celebration and display of photographic images is well under way. I was hoping I could find a way for the BonBonerie to participate somehow. So I thought about how in my travels, I have always been delighted when I have the great fortune to come across brides on route to their wedding. As unobtrusively as possible, I invade their space for a moment and snap a picture or two.
In celebration of PhotoFocus, I have chosen a few of these shots and put them on display in front of the bakery for you to enjoy.
The first I came upon one night as the bride posed with her husband near the Coliseum in Rome. The architecture and evening light cast a mysterious atmosphere.
The second was snapped in Toronto. I saw a wedding party walking down the street and suddenly they made a detour into CVS pharmacy. I followed them in and caught this bride selecting a drink out of the refrigerator case.
The next was in Milan.This lovely bride glided through a piazza with her flower girl in tow chatting all the while on her cell phone. Lovely 21st century image.
Another shows a helpful groom holding up the back of his beloved's dress to prevent it from getting wet after a downpour.
Another shot was taken in Ireland. Everyone wafting throughout the park in their southern belle dresses. It was chilly out, but they were undeterred.It made me think of the strange connection between our Southern Plantations and the Irish architects that often designed them .
This Roman bride walks calmly down the street in her gorgeous white dress ,I am assuming with her husband.Calmly, with no one entourage , they make their way down a crowded street.
The final shot was taken at the gay pride parade 2015. That was the year of the Supreme Court decision that legalized gay marriage and there was a lot of celebration going on.This shot reflected the fun with the paraders were having.
Sharon Butler
Co-Owner