My Super Power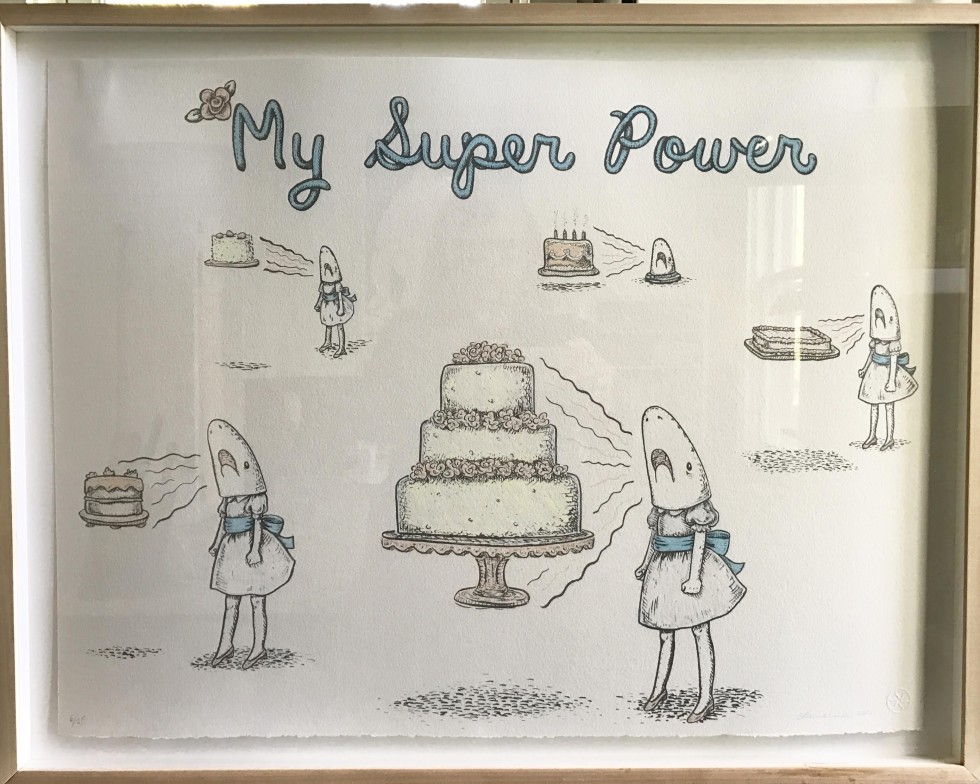 Nothing has spoken to me more about what owning The BonBonerie has meant to me than a lithograph I have purchased by Casey Riordan Millard called "My Super Power". I recently hung it in the Cafe for you to see.
I met the artist Casey Riordan Millard for the first time last year after having admired her shark girl sculptures,drawings and paintings exhibited in numerous art establishments around Cincinnati. It wasn't until we actually sat down for coffee at our neighborhood coffeeshop, however, did I realize she also had the same serious passion for cake that I do.
The My Super Power print has her shark girl expressing five different cakes she has created all hovering magically in front of her .One a simple sheet cake, two a very fancy birthday cake with candles, three what looks like a simple coconut strawberry torte, four a semi iced boston cream pie like cake and finally a big beautiful three tiered wedding cake.
Our conversation began with an immediate acknowledgement that we both know the power of baking for others. Baking is alchemy in many ways. Transforming raw materials into an ethereal object designed to utterly delight the eye as well as to satisfy all of your cake eating desires.
I have seen the look on thousands of customers faces as we open their cake box to show them their cake before they leave the store. People cry, they shout with delight, they smile from ear to ear, they stand in amazement as others come around to admire their treasure.
Our wedding consultants will verify the thousands of hours brides will spend on designing and choosing the flavors of their wedding cake.
One of my favorite parts of meeting and learning about Casey was that the big wedding cake in the center of her print was actually a drawing of her wedding cake which The BonBonerie had made for her years before. After learning that, I was thrilled to have been on both the giving and receiving end of both of our super powers.
Sharon Butler
Co-Owner