One of my Favorite things...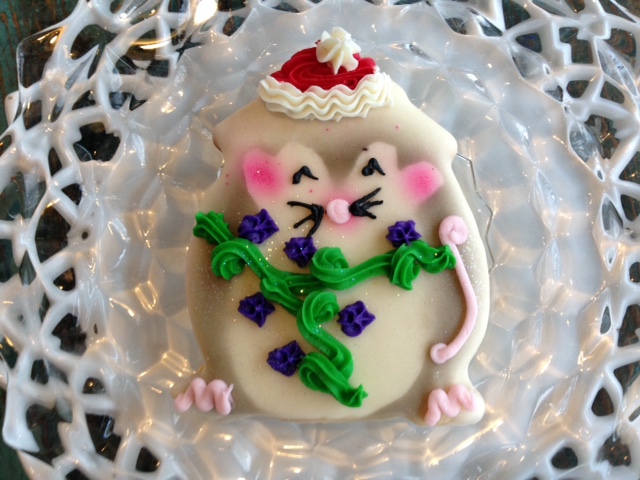 One of my favorite things.
I love the images of mice at Christmas. Perhaps it's the Nutcracker, or memories of holiday Tom and Jerry cartoons, or the sweetest mice who helped Cinderella get dressed or Snow White do her chores. In these instances they weren't the creatures that invade our closets in the fall, but tiny creatures that witness our human behavior and occasionally participate in our folly. So every year I have tried to get a mouse into our holiday decorations. One year one of our decorators made marzipan mice and we set one hand crafted darling mouse on the top of each bowl of chocolate mousse.
After going to England once, I brought home the most wonderful pink and white sugar mice with string tails that children all over the British Isles must suck on with delight, holding the tail like a lollipop stick. I tried my best to order them for our yule log, but it just couldn't happen.
What a fantastic surprise I had this year after having returned from a late vacation in November The cookie team, especially the extraordinarily talented Angela Hurtte, created the most winsome Christmas mouse with whiskers, a shy grin and a string of colored lights around his neck as one of our holiday cutout cookies. I smiled from ear to ear as they presented their creations to me on my return.
As an aside, this same Angela Hurtte, entered a contest from The Food Network in October. She was asked to create a cookie that brought attention to how we celebrate the holidays in the State of Ohio. Entrants were from all 50 states with only one cookie chosen to represent each state. We won with her representation of The Festival of Lights at The Zoo. You can see her piece as well as the winners from the other 49 on line at the Food Network Magazine or in the magazine section of your local bookstore.
Sharon Butler
Co-Owner