Pie Before Thanksgiving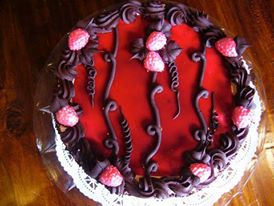 It's always the same. September arrives and before you know it…. it's November. So it is true again. November is a great month. It's shorter than others, there is a certain quiet following Halloween and we know what is just around the corner, first Thanksgiving and then Christmas with all of its intensity.
I have spoken to many people over the years here, and unless you're a kid most people say that Thanksgiving is their favorite holiday. People we love getting together around our favorite obsession - food. It's primal.
Cooking smells waft thru our houses as the oven transforms raw into delicious, delectable and memorable.
At The BonBonerie we love to pull out our own holiday favorites that so many of you have counted on over the past 30 years.
Pumpkin plays an integral part in many recipes. Our pumpkin cheesecake with its gingersnap crust and thin glaze of homemade caramel is tops. Many of you have given up the idea of pumpkin pie for our delicious pumpkin roulade filled with a cinnamon whipped cream and covered in handmade marzipan pumpkins and icing vines . But don't forget the humble but perfect pumpkin pie. It never disappoints with a dollop of fresh whipped cream. Our pecan and fresh Granny Smith apple crumb pie also deliver a mouthful of joy.  
I consider November pie month. My brother invited me to a party in his neighborhood out in Carmel, California.  The Saturday before Thanksgiving friends brought their favorite pies and everyone indulged. On Thanksgiving, so many didn't have room after eating the big feast. I think that's a great idea. I may try it this year myself. 
Sharon