Playhouse in the Park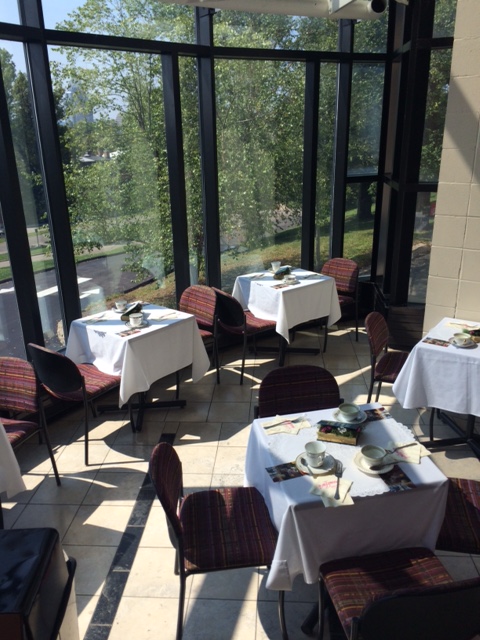 For the past four Saturdays the BonBonerie has presented and served an Afternoon Tea that preceded the matinee of Miss Bennett, Christmas at Pemberley. The Playhouse gives us the opportunity to enrich its audience's playhouse experience with a proper English Tea and we get to demonstrate our talents to a new audience as well.
I love partnering with Arts organizations. It is my opinion that the Arts create the language for all that cannot be said by ordinary means. So I take almost every opportunity to contribute to their events when I can.
Before everyone arrives for Afternoon Tea, there is the anticipation similar to before the curtain goes up for a play. I have always felt simpatico with theatre. We set the stage every day at the Bakery and Cafe complete with your favorite characters, dramatic situations and sometimes tragedy.
Most of the ushers at the Playhouse are volunteers who in exchange for directing you to your seat, get to see the plays for free. I was an usher for years as a teenager and young adult and I loved it.
As a student at Ursuline Academy, I had a particularly wonderful drama teacher by the name of Sister Joan Leonard. We read everything from Shakespeare's Julius Ceasar and Merchant of Venice to George Bernard Shaw's Pygmalion and St. Joan as well as The Glass Menagerie, and The Diary of Anne Frank. It was thrilling to go to class to hear and discuss these works of art. That class gave me a thirst for more theatre for the rest of my life.
We also had an ambitious young teacher named John Cassini who chose challenging works for us to perform if we were a part of the Drama Club. It is hard to believe, but in 1966 when I started there, all the male and female parts were performed by girls. Mr. Cassini must have had an influence on the changes that came about, because by my sophomore year when I was chosen to perform Anne in the Diary of Anne Frank, we had boys performing as Mr. Dussel,Mr. Van Daan, Peter and Otto Frank. I can remember everything about practicing and performing that miraculous play. I can still see my dear friend Maureen Fleming, who passed away recently, delivering her lines with aplomb as the emotional Mrs. Van Daan .
Moving in and out of how we become who we are is a mystery to me, full of serendipity, opportunity and then choice. I have said yes to many things that I didn't really understand but was curious enough to do anyway, like ushering at the playhouse, baking for Arnolds restaurant with no experience, both of which lead me to starting my own business. I attribute most of my success in this world on loving the arts. They have always lead me in the right direction…. happiness.