Raspberry Cake Day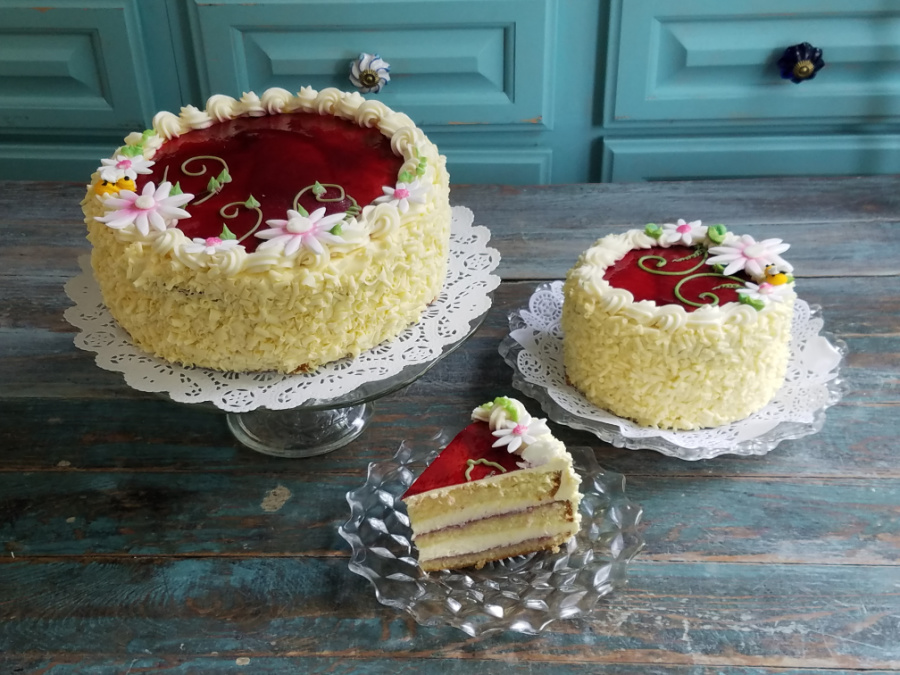 The Retail Bakery Association is probably the organization that comes up with all the various "BAKERY GOODS DAYS" to celebrate throughout the year. Most of you have probably heard of National Donut Day, or National French Macaron Day or National Brownie Day or National Chocolate Chip Cookie Day. The list goes on and on. I realize it's a way for bakeries to celebrate what we make well, but we haven't really followed their marketing cues throughout the years for various reasons. Luckily, our lovely customers sharing their appreciation for BonBonerie with friends has been the best marketing strategy we could ask for. But when I saw that Friday, July 31st was National Raspberry Cake Day, I had to do some celebrating too.
Raspberries grow so well in the midwest, it's no wonder that so many of you have acquired a taste for those plump red berries. When I bought the first house I ever owned I had no idea that the entire perimeter of my backyard was lined with raspberry bushes. Can you imagine how I felt after discovering the bounty in my own backyard that summer? In the morning, my three-year old son would go out in the yard, pick a bowl of berries and we would eat them immediately on our cereal. Pure joy.
From almost the inception of BonBonerie we have always made cake that included raspberries. It might come in the form of a layer of raspberry jam, raspberry whipped cream , raspberry buttercream, or even hand crafted marzipan raspberries used for decoration. One of your favorites cakes of all times used to be the Raspberry White Chocolate Torte which was a genoise brushed with raspberry syrup, filled with fresh raspberry buttercream, then iced with our original white chocolate frosting. We have added many raspberry inspired cakes since we had that one.
On Friday the 31st of July, we will be making our White Chocolate Romance with a layer of raspberry jam and our Chocolate Raspberry Torte, which you will be able to purchase by the slice.
Let's celebrate raspberries together. See you on the 31st!
Sharon Butler
Co-Owner
Here is a list of our cakes made with raspberries coming from my own memory. If you remember others, please let us know.
Raspberry Cakes
Raspberry Poundcake
Black Raspberry Chocolate Cake
Bumbleberry
Raspberry White Chocolate Torte
Raspberry Romance
Chocolate Raspberry tortes
Chocolate Hazelnut Torte made for National Exemplar when we first got started ( it was filled
with hazelnut whipped cream and a thin layer of raspberry jam)
Raspberry Chantilly
White Chocolate Romance with Raspberry Jam
Raspberry Marley
Chocolate Raspberry Jewel
Lemon Raspberry Torte