St. Patrick's Day Memories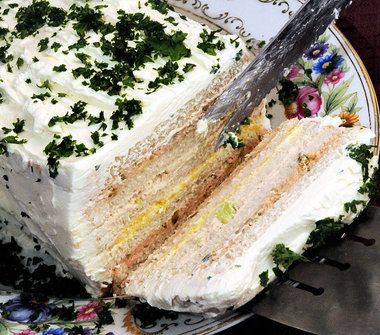 My Mother taught first and second grade at St. Vivians School for 26 years. My father died when she was only 47.The other teachers and administrators were like sisters to her. Every year on Saint Patricks Day, she would put on a great celebration for them at our house after school. She always celebrated the Irish part of our heritage (O'Rourke and Kelly) more than the German (Hampe) anyway. Perhaps having an Irish grandfather who was a captain in the NYC fire department had something to do with it. But it was the joy in community from the Irish part that appealed to her most, and the singing.
I was always game for helping her get ready for this event. She would plan the menu a few days ahead. Green meringues were a yearly must have. In fact, green food coloring was essential for most of the menu. Days ahead, our local baker, who regularly made green bread for the St Patrick 's Day, got a request from her to cut the bread lengthwise four times, which he did. That was a requirement for Mom's stupendous crazy and wonderful sandwich loaf. I have tried putting it on our menu at The BonBonerie for years, but there isn't much interest. It consisted of a layer of ham salad, egg salad then canned asparagus with mayonnaise. It was then iced with pale green cream cheese and chopped parsley. That was a big hit.
This group was also great fans of the perfect Irish coffee as learned by my Mom in Ireland. The Irish coffee glasses, purchased there, were carefully filled in this order 1. a teaspoon of sugar 2. a generous jigger of Irish whiskey 3. strong coffee 2/3rds of the way up then a gentle pour of slightly whipped fresh cream.
You can imagine how much they looked forward to her party. I did too. One year, she even put a little of that green food coloring in my hair.
Sharon Butler
Co-Owner