St. Patrick's Day 2014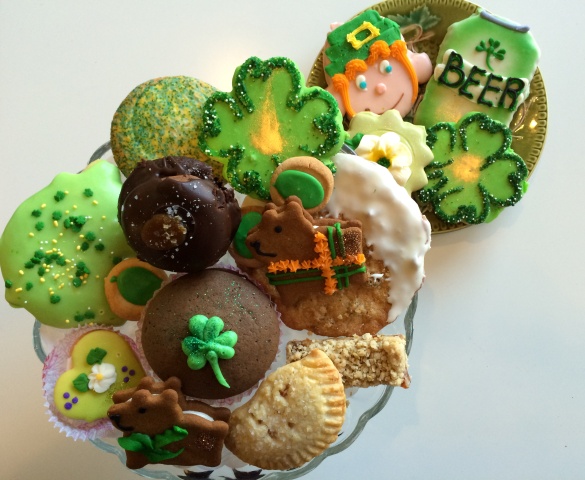 Saint Patricks Day has a special meaning for our business for 2 reasons; my partner Mary Patricia Sullivan Pace was born on Saint Patricks Day and has developed a keen sense for celebrating that day ever since.
Reason two relates to my memory of the St. Patricks Day parties that were held yearly at our house for all the teachers at St. Vivian's School in Finneytown. The day before the party my Mom would pick up her order of green bread from our local bakery and we would proceed to make a party loaf of layers of egg salad, ham salad, butter and asparagus, which was then iced with cream cheese and lots of parsley. Next would come the green meringues baked on brown paper bags. We make them in March at the BonBonerie with a hint of green too. Next we would clean and line up the special Irish coffee glasses. Finally my Mom would proceed to dye the front of my hair green with food coloring so I could become the perfect server. As an aside, my great grandfather Patrick Kelly, was a fire chief in NYC. Now that's Irish. 
 March is not all about St Patrick's Day, but it gives us a good reason to bake some of our most comforting foods as spring begins to show itself, still with a bit of a chill.
So this month we hope to delight those who are Irish and those who are not. That includes our scones which we make all year long, each small batch is made from fresh cream and butter and whole eggs just like they do inIreland. Some travelers have said they prefer ours to those from the motherland. We will also be making two kinds of Irish soda bread, one raisin and one whole wheat, to compliment your Irish stews or to enjoy with a cup of rich black tea with milk. Our "Morning Buzz" tea in the Cafe if a realAssam, the favored tea ofIreland. We serve afternoon tea daily in our Cafe too.
            Our Irish whiskey Cake and Baileys Irish cream bundt cake are great for a party or as gifts. There is always plenty of green on our cutout cookies and you may want to try a chocolate mint la Bonbon or a box of Lacey Lady Cookies when company drops by. Happy Saint Patricks Day to all.
Sharon