Decorating for Christmas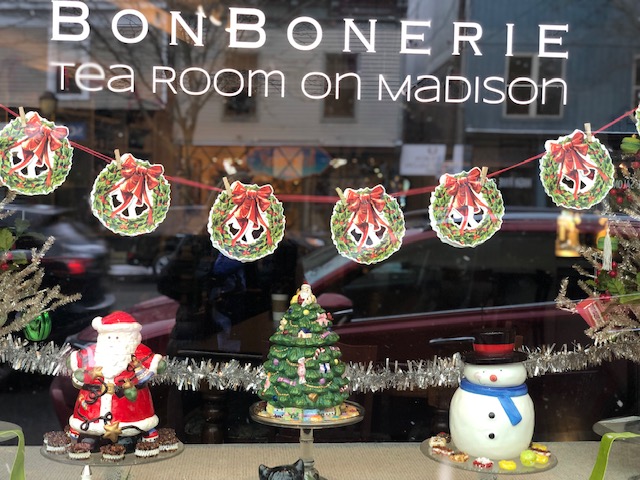 As soon as the extra pumpkin pies are given to the volunteer from Saint Cecelia's Church on Thanksgiving eve, I begin the arduous process of planning the decorations for The BonBonerie Christmas. First of all I don't decorate for Christmas before then because I reaIly like Thanksgiving and want to celebrate it completely without muddying it up with Christmas decorations sitting right next to a cornucopia  or two in the lobby. Secondly I feel I am doing my part to slow down the mad rush to the Christmas finish line. That being said by the time the Friday after Thanksgiving arrives I am in a full Christmas decorating mindset.
We have been decorating for each holiday, including Christmas for over 31 years at our Obryonville location. I really try to make it something fun and beautiful because I clearly remember as a child how much I enjoyed experiencing all the artistry and elaborate decorating that adorned every shop window and restaurant throughout the city. The other day I stopped at Target and I took notice of a few cardboard cutouts of wrapped packages or the word BELIEVE hanging above our heads to remind us which holiday we were about to be shopping for. That was it to set the tone for the holiday.
I know mine is  a  nostalgic perspective, but the experience of watching the elves make toys in the windows at Shillito's or walking through the grandeur of Poque's arcade  bedecked and bejeweled for the holidays made even a visit down town just to window shop, a fun holiday experience I always looked forward to.
So this year on black Friday morning instead of shopping for bargains, I began assessing my decorating archives and making choices for this year's theme. I used to love to shop at Value City on Ridge Road. I don't know how they were able to find the wondrous things they made available to us. One of my favorite finds from there were some gigantic pink and chartreuse overstuffed velvet stockings with feathers around the top. It was that year that everything had a Dr. Seussian vibe. Sometimes I would wander into Cappel's downtown and discover somethings that would set my imagination in motion. One year it was antique Santa face garlands which I hung in every window of the bakery. Another year it was going to be all about gingerbread. Unfortunately after poking holes in all the cookies we made and hanging them from the evergreen garlands, they softened with all the moisture in the bakery and began crashing to the ground. A quick trip to the store for gingerbread ornaments, rescued an inspiration gone bad.   
Ultimately I am most fond of a classic Christmas theme with elves, rosy cheeked statues of Santa and bountiful evergreen garlands and wreaths with red ribbons. I have a bit of the collector in me and have amassed a small collection of these kinds of artifacts to share with all of you each year. 
In the windows of our Tearoom on Madison, I set up 3 silver trees hung with fanciful glass pastry ornaments surrounded with holiday shaped cookie jars. I have watched as people stop and look into that window with delight. It makes me smile. I will finish decorating the Cafe and Bakery by the end of week. I hope all of you enjoy the atmosphere as much as you enjoy the fabulous pastries cookies, cakes and yule logs that our bakers and decorators are preparing with the same commitment to making your holidays beyond the ordinary. If you look into the windows of the bakery you may see our elves getting everything ready for your holiday celebrations. Wave to them. Unlike the elves in Shillito's windows, they actually may wave back. Happy Holidays from all of us at The BonBonerie.
Sharon Butler
Co-Owner