The Art of Food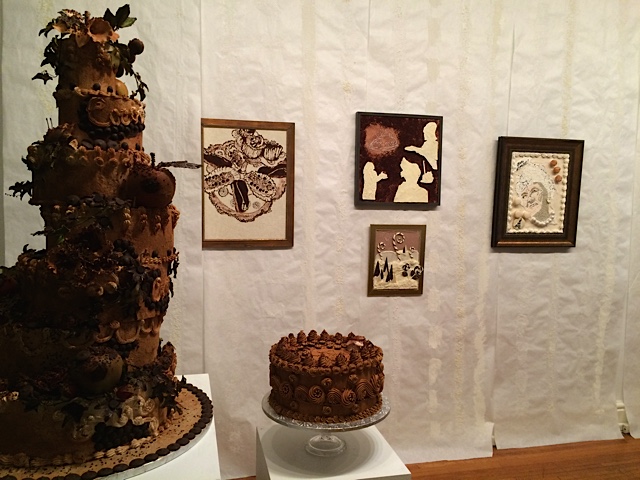 The idea of the Art of Food Event at The Carnegie Arts Center in Covington started in the mind of Bill Seitz about 10 years ago. I had never met Bill,who was the director of the arts center at that time. He called me at the BonBonerie and asked if he might brainstorm with me for a bit about an idea he had. I enthusiastically agreed and have been grateful to be able to participate with either my talented BonBonerie staff or alone for the past 9 years. I thank Bill every year before I begin to communicate my dual love for Art and Food. Sometimes they intermingle so much there really is no need to separate them.
This year with Matt Distel in the director's chair, I was given the opportunity to curate one of the galleries at the show last week. My room was to be of the essence of Chocolate and Vanilla. It seemed easy enough for the owner of a bakery to come up with a brilliant idea to celebrate these two flavors, but that is what made it so much more challenging.
I am enthralled with wallpaper. I decided to make wallpaper with stripes of crystal sugar, vanilla jimmies and white nonpareils. In my dining room at hope, I painted stripes of glue on nine foot lengths of white butcher's paper, and then generously sprinkled the sugars over the glue, hoping it would stick. It did (for the most part) and Matt kindly hung the 24 foot wall when you walked in the gallery, with my wallpaper. This wall represented vanilla in all its' subtlety. It is ubiquitous, seemingly simple in its effect on almost all baked goods, but mostly like a background, never loud or with a punchy effect.
In contrast, what did I need to create that reflected the glamorous show stopper chocolate? I brought home varying sizes of Styrofoam cake forms, cocoa, Belgian chocolate pieces and pastry bags and just let myself go. The cake kept getting taller and more elaborate as the nights went on. I could have worked on it even longer, but the show was about to open. In essence, it's OK the gild the chocolate lily. In fact it's natural to embellish. The second chocolate cake I made was a representation of an illustration from one of my favorite pastry cookbooks. It is dedicated to Paula (Peck), with Gratitude.
As a young girl, I was given a painting on velvet kit for my birthday. I loved that beautiful black velvet and followed the instructions carefully to paint a bowl of fruit .It impressed my parents enough that they chose to hang it in our dining room to my utter delight. That is what inspired me to paint with dark chocolate on white velvet. It was the incongruity of painting with chocolate, a food, on a piece of expensive fabric that created a kind of strange beauty. So I chose a pastry stand laden with chocolate éclairs and fruit tarts to try my hand at painting with dark chocolate on cream colored velvet.
An important theme for me in baking is always the importance birthday cakes have on our memories and our yearly celebrations. My birthday is in January. This year I had a wonderful birthday. My friend Lorna surprised me by baking me her mother's delicious banana cake, my sister and niece and a few friends celebrated with me at 21C's Metropole where after a delicious dinner, I was presented with a pastry with a lit candle glued to the plate. My very old friend Tweety drew a cake on the back of the envelope that contained my birthday card. I incorporated all of these images in shadows painted with white chocolate on a shaved chocolate background.
The rest of the exhibit was completed by the artistic contributors from The BonBonerie staff, who always amaze me. The whimsical all chocolate landscape was created by our clever cake decorators Allison Rednour and Debra Lay. Angela Hurtte , our most creative cookie designer and artist in her own right created the portrait of Julia Child all in shades of vanilla icing. And finally my partner MaryPat Pace made the homage to vanilla by creating a cake totally lined with real vanilla beans adorned with the orchid flowers that produce those luscious vanilla pods.
Sharon