Ursuline Reunion Class of 1970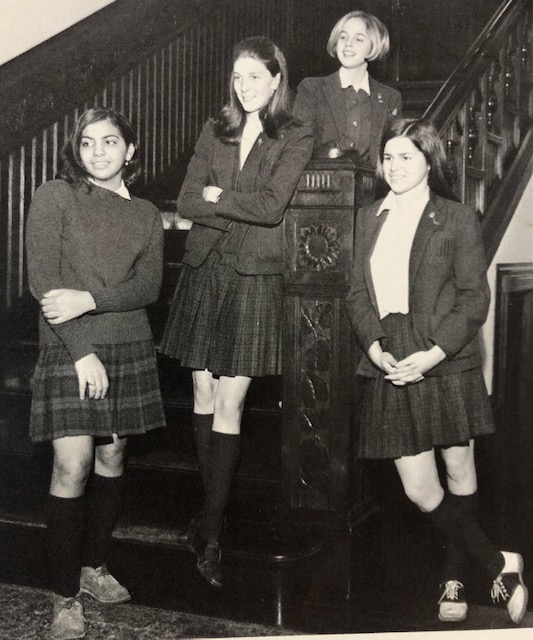 I am a member of the graduating class of 1970 from Ursuline Academy. That's the all-girls school that was once on the corner of Oak Street and Reading Road in Mount Auburn. The one that looked like a mansion with gorgeous wooden handrails that thousands of girls gave a golden patina to as they ran from floor to floor to attend classes throughout the day. What a beautiful space it was. Having grown up in a very new suburb called Finneytown, it felt as if I was in Europe. My parents, especially my mother, chose an all-girl education for me and my sister. She had attended an Ursuline Academy in New York as a girl with the same order of Ursuline nuns running the show.
In the sixties, we were primarily educated by the nuns with a few men and lay women sprinkled in. I would describe the four years of high school on Oak Street as transitional, starting with the nuns who lived on the third floor above our classrooms. In 1966 they were dressed from head to toe in a black habits with black veils and white head pieces like they had been for hundreds of years. Then one day, without warning, halfway through sophomore year they all came to work in shortened skirts, wearing black scarves with white edges that exposed their hair. Guessing the color of any nun's hair had been a popular obsession for us, "What color do you think Sister Mary Magdalen's hair is?" Now we knew. It was not an easy adjustment. We were mostly stunned by the information but adjusted quickly. The sixties had pressed against hundreds of years of tradition. Just like that. What would be next?
I have always loved theatre. Sister Joan Leonard loved it too and one year in English all we did was listen to and read plays from Shakespeare to Moliere to Tennessee Williams. Freshman year I was in two plays. The female and male parts were all played by my classmates, but by the time junior year came around and the new head of the theatre department Mr. Cassini arrived, there was a new vibe in the gym that doubled as our theater. Boys – actual, glorious boys – came to try out for the male parts. I remember the whispers that would run through the halls when any male other than Father Marion, the building custodian, or either of our two male teachers were in the building. This was definitely a new age. I am sure that is what the age of Aquarius meant.
The girls at Ursuline came from all over the city. It opened the door in a small way to see that there were many other ways to live a life than what happened on our streets at home. I remember the first time going to a party at one of my classmates who lived in Hyde Park. First of all, it was so hard to find the house and secondly, I had never seen such an old and beautiful neighborhood like that before. Ursuline opened up my world and it happened over and over again over my four years there. They seem insignificant when you consider the opportunities young people have now, but in the late sixties, ten miles outside of your neighborhood was a real experience.
Knowing a foreign exchange student these days is not unusual either, but in 1968 both Shulamit Lotate from Israel and Martine Berlin from France took us to their worlds. With Shulamit, we visited Hebrew Union College and for the first time in most of our lives learned about Judaism. Martine could hardly speak English when she arrived but it was so exciting to actually speak to a real French person. When I tell you all of this in some ways it sounds so simple, but all of these tiny experiences had big impacts.
Change was all around us at Ursuline. Freshman year, we had a gym teacher who was probably my age now who would have us line up in our gym shorts and basically do fifteen minutes of calisthenics, maybe have us run back and forth, or play kickball in the gym each day. I thought that's what a gym class was like until she retired sophomore year and the dynamic Mary Grace replaced her, who coincidentally is now one of my favorite customers at BonBonerie. She transformed the Physical Education department at Ursuline forever. Through her efforts we even joined a basketball league. That had never been done before. Sometimes when I read what I am writing it probably sounds like we must have been the class of 1920.
The end of the sixties was exciting and terrifying too. I remember the day that Martin Luther King was shot. Rioting was beginning to break out close to school. I remember having to think about the best way to drive home to Finneytown to be safe. We always carpooled and we loaded into someone's car as we wound our way back to our safe havens, not knowing what would be happening in our blown-up world.
Entering our senior year, we were hit with some disappointing news. Ursuline Academy, our 'old grey building on that great highway', was moving to Blue Ash. For the younger classes it was going to be an exciting opportunity, but for us it was going to be nothing but sad as we packed our books, our senior decorations, and our memories. In April of our senior year, we moved to the new location on Pfieffer Road with its painted cinderblock walls, indoor-outdoor carpeting, new lockers, a big gym and theater, a modern science lab, open classrooms, on and on … All of it, however, begged the question of why did we have to do this now? I never really understood the reason we couldn't stay on Oak Street for one more month. We didn't even get to graduate in the old gym like every class since 1928 had. We had our graduation ceremony at Xavier University. I'm afraid it left us all feeling a little lost no matter how much school pride and camaraderie we had built. We all missed the bay windows, the wood paneled halls, the hardwood floors with the elegant staircases.
The class of 1970 was unique in so many ways. We even had to delay our BIG FIFTY reunion last year because of Covid. We are a resilient group, however, and we share a lot of affection for each other. For one thing, we have all had to go through plenty of hard times, including the past year. Hopefully, as many of you as possible will be able to attend our reunion on August 6th and 7th.
In case you aren't unaware, I am one of the two owners of the BonBonerie. My business partner Mary Pat Sullivan Pace went to another all-girl school, Sacred Heart. I've never held it against her, though. We will have a tea party just like we had with our mothers on Oak Street, but greatly modernized and with the addition of a cocktail or two. I am so looking forward to seeing you all again.
Sharon Davis Butler
Co-Owner