What stories are made of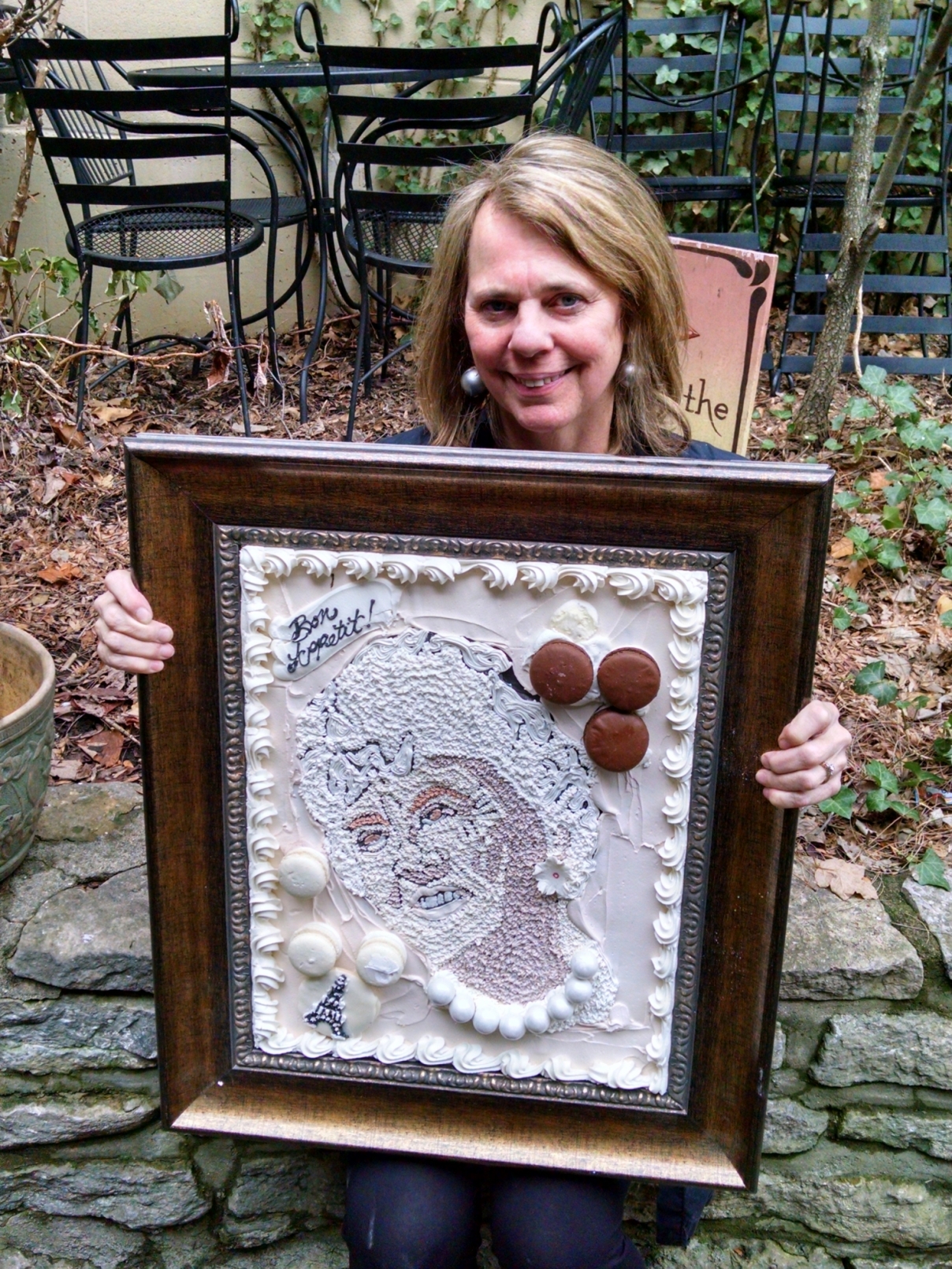 Visiting My Mom in the hospital ….. Julia Child and Lou
I was visiting my 92 year old Mother in the hospital today. My sister and I sat by her bed talking about my German Grandfather who was a fireman for the New York City Fire Department , as was my Irish Great Grandfather on my Mother's side. Out of the blue she mentioned that the firehouse my grandfather had been stationed in was right across the street from where they had found the Lindbergh baby. I had never heard her mention that before.
I knew my great grandfather on her father's side owned a bakery. I asked her what the name of it was and she guessed it must have been Hampe Bakery, her maiden name. She didn't remember ever having been there though, but knew they specialized in bread, stollen and coffeecakes. My grandfather once told me he had to quit school in the sixth grade to deliver bread to the hospitals. She also mentioned how her Grandmother, the bakers wife used to make the most delicious apple fritters covered with hard sugar.
The dim light in her room made the stories flow freely. There seemed to be no barriers to our stream of consciousness. In fact I would call it carefree timelessness which to me is that rare occasion when you are completely living in the moment, unable to accomplish anything but what is between you and the others in that space.
While we were sitting there with our stories flowing, a nurse came in to get my Mother back into her bed from the chair she had been slumping in, while barely eating her dinner. After a moment, the nurse looked over at Maureen and me and said,"Which one of you owns the BonBonerie? I have a story from one of the nurses that worked last night that you will want to hear."
Like us, she began to tell her tale. At least 10 years ago, her friend Angie the night nurse, had attended a wedding reception at a downtown Cincinnati hotel. This happened to be same hotel where Julia Child was staying. The BonBonerie had made the bride's wedding cake. The bride's choice of cake had been the opera cream. Perhaps Julia had been sitting at the bar or in the lounge near the reception, but somehow Julia Child had been offered a piece of wedding cake and amazingly she gladly accepted, ate her piece and said that she really enjoyed it. When I heard her story I was stunned.
I have always so admired and really loved everything about Julia Child. Her courageous life choices were so important to me as I entered the world of food and pastries when I was just a curious and confused 30 year old with hardly any experience. But I did have the joy and curiosity just like Julia .She had accomplished so much with grit, smarts, wit and joy. She made me feel like it was possible for me to succeed too.
It's difficult to believe there could be more to this story, but after a few minutes, in came another member of the staff. She wondered who was the person who owned the BonBonerie, because she was deeply grateful to my mother in law, Lucretia Dye and wanted to know if she was still alive. I told her that Lou had died a few years ago but she wanted to be sure to let me know that she now raises a breed of dog called a Basenji because of her. Lucretia lived a very exciting life as a professional dog judge and prize winning breeder of this particular kind of dog. She also made the most amazing pies. I mentioned to this young woman that we would be making Lucretia's apple pie at The BonBonerie in March. She was anxious to come get one she said, It would make her feel a little closer to Lou.
I always say to my staff that we can never tell who we may affect with what we do. That is why we have to strive to always make everything as beautiful and delicious as possible. They seem to be what stories are made of.
Sharon Butler
Co-Owner