When Irish eyes are smiling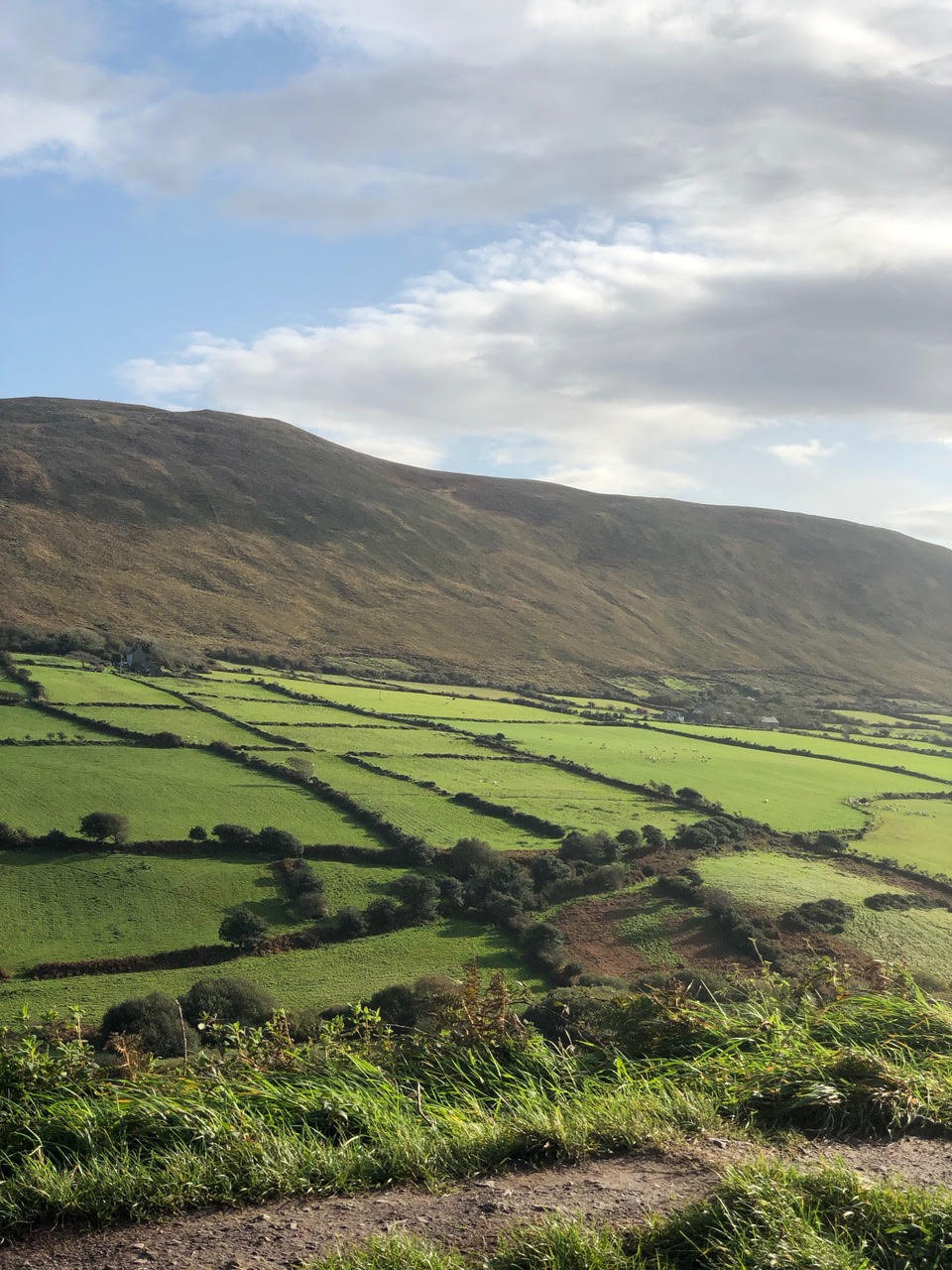 Irish Eyes are Smiling
I recently returned from a visit to Ireland accompanied by my husband and sister Maureen. It was lovely and so hypnotically green. So many of my favorite things in life are a part of the fabric of being Irish. There is no shortage of strong, hot, black tea with plenty of milk or scones with fresh cream and jam. There is always a friendly soul to talk with at every corner, kind of like the BonBonerie. There are bookstores in every town we visited, sometimes two or three as well as live music performed every night in every town to be enjoyed with the purchase of a pint of Guinness or a hot whiskey. One night there was an announcement among the musicians and the other six of us sitting in a small pub that the gentleman at the table sitting across from us was celebrating his eighty fifth birthday. We sang him the Irish version of Happy Birthday and my sister Maureen bought him a pint of his favorite beer. We enjoyed listening to music and singing along there for over two and a half hours.
Everywhere I travel, including Ireland, I gain a great deal of pleasure from checking out the local grocery store. I love to see their packaging, how they lay out their produce and what the meat department looks like. In a town called Dingle, I went off for a walk by myself one day and ended up spending an hour at their supermarket where I bought a fingernail brush, clove candy, cheddar cheese, digestive biscuits and a Halloween mask that is now hanging on my front door. The bakery department is usually the first place I visit, and this one didn't disappoint. Looking at the shapes and colors of their cakes and cookies is like going to an art exhibit. In Dingle I especially appreciated the names they called things too; like the jam and coconut butterfly buns or mini party creams. Their chocolate biscuit cake was a fanciful work of art covered with an odd assortment of colored marshmallows and spice drops. It sounds strange, but it worked! It isn't necessarily something I want to make at BonBonerie , but it was so much fun to see pastry through Irish eyes. They made my Irish eyes smile.
One thing I will be able to share with all of you from my visit to Ireland is a brilliant way to serve Irish coffee. At the end of a grey afternoon in Dublin, we zigzagged our way in a walking fury to make it on time to a tour of the Teeling Whiskey Distillery with two minutes to spare. We were apologetically informed that the tour was delayed a bit and would we mind sitting at the bar where we could enjoy a complimentary Irish coffee. None of us refused such a generous offer. We sat and watched our expert bartender make three Irish coffees, unprepared for how delicious it would be, more than any Irish coffee I had ever had. "What was his secret? " I asked.
Our darling bartender was as generous as the rest of his Irish countrymen to share the secret to it's splendor. "Our secret is our house made stout syrup" which they used instead of the typical spoonful of sugar. You will be tasting this as soon as I make our own stout syrup. Look for it in the Cafe as the weather changes and the darkness comes earlier to our windows.
I hope drinking an Irish coffee, enjoying a scone with fresh cream or sitting with a friend and a large hot pot of tea in the shadowy light of a late afternoon will keep my trip to Ireland alive just a little bit longer.
Sharon Butler
Co-Owner