White Chocolate Fervor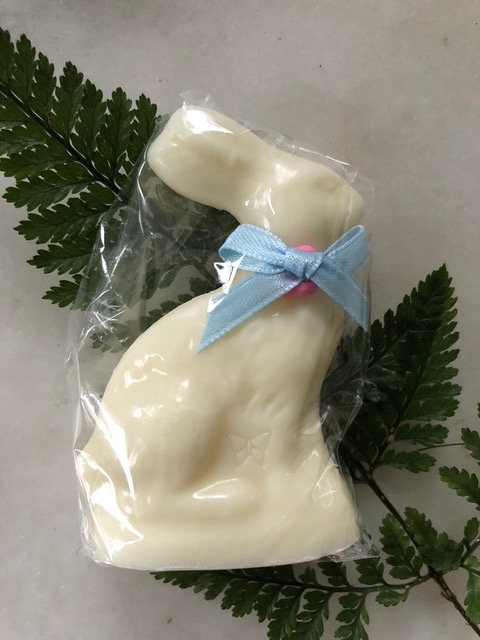 White Chocolate Fervor
Some of you may wonder why we love white chocolate so much at The BonBonerie .The Easter season tells the story. Last weekend I was in Louisville, Kentucky at the Humana New Plays Festival. It is a yearly event that always takes place in spring and occasionally around Easter. I mention this because a few years ago I discovered a beloved candy store called Muth's that still celebrates Easter with a gusto. Bunnies, lambs, chicks and crosses of all sizes molded out of white, milk and dark chocolates line the antique wooden cases. This year I couldn't resist filling two bags full of various treats to share with my family while I was there, saving a white chocolate lamb for myself.
As a child I loved Easter more than any other holiday. Easter weekend began on Good Friday climbing the mysterious steps in Mount Adams which ended at the beautifully candlelit Immaculata Church at the top of the stairs. Next my Mom would lead us to the grotto at the Church and Monastery of Holy Cross which was a few blocks away. It was there that bottles of holy water from Lourdes, France were available to take home after silently walking past numerous abandoned crutches that leaned against the grotto's rocky walls. I remember the quiet as we witnessed the possible miracles that may have happened to these unknown souls who had owned all those crutches. Perhaps one day I may need a miracle and now I knew where to go if that need arose.
On the Saturday before Easter my Mom would hard boil at least 3 dozen eggs which we would decorate and dip into vinegar infused cups where dye tablets were dissolving into glorious shades of blue, green, yellow and pink. It was pure joy for me to transform those plain white eggs into their hand colored beauty. I would look at them drying on a cookie rack knowing that in the morning my Mom and Dad would be hiding them all over the house for us to discover along with our Easter baskets full of candy, after we returned from Sunday Mass.
My favorite thing about our Easter baskets were the molded chocolates. I especially loved the white chocolate bunnies. It was the only time of the year white chocolate was available. I clearly remember looking in my basket in hopes of discovering on the green paper grass some kind of spring animal molded from that sweet vanilla substance called white chocolate. It was wrapped in shiny cellophane with a pink or yellow ribbon at the top. For the next week I would take the tiniest bite off an ear, then a tail perhaps until that vanilla joy was finally gone.
Easter morning fulfilled the promise of spring. In our hearts we also knew that if we squinted a glimmer of summer vacation was right around the corner.
This is the improbable but true reason we embrace white chocolate with such fervor. So much begins in childhood.
Happy Easter!!
Sharon Butler
Co-Owner