Wild Bill Hickock and the Silver Pastry Tray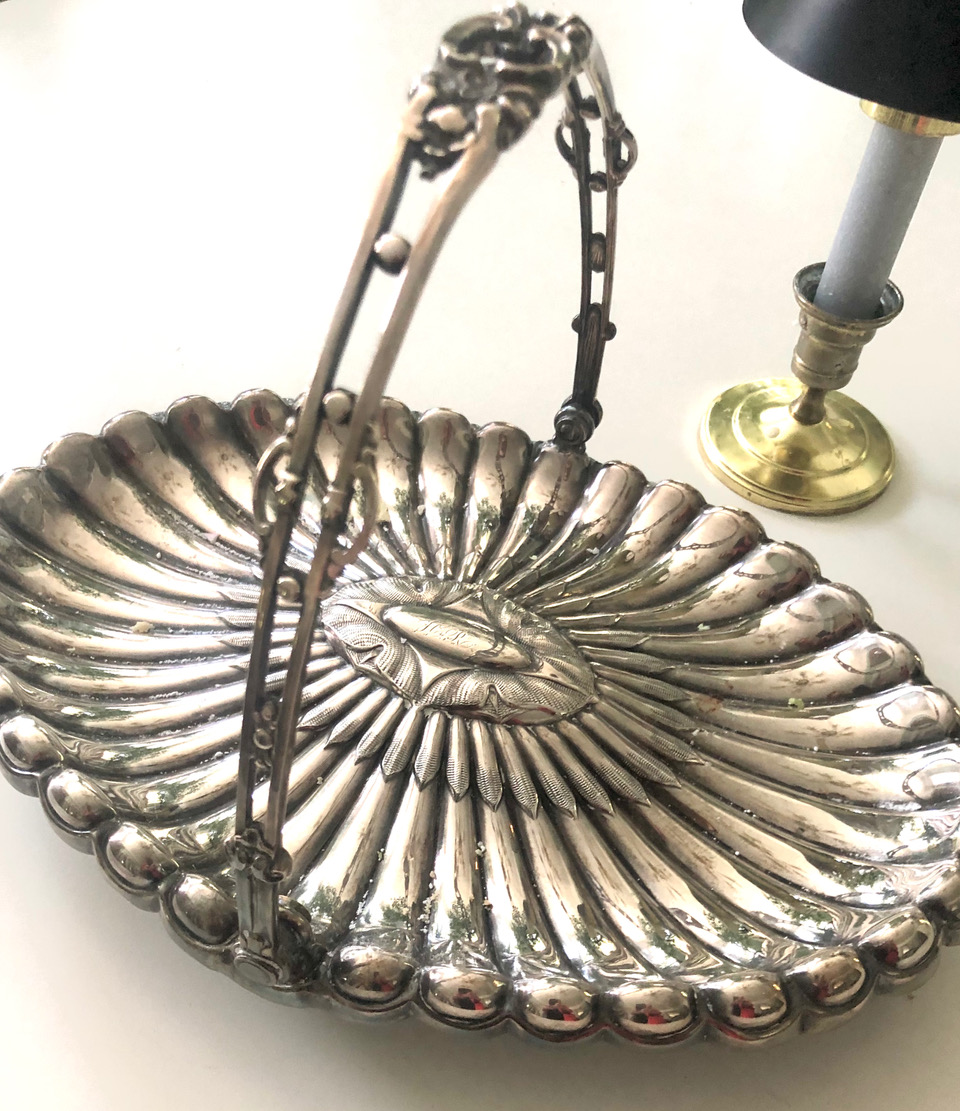 There's a lot of talk these days about altered history. What is the real truth? It happened to me not long ago. This spring I put on a bridal shower for a friend's daughter at my home and brought the perfect family heirloom out of storage, a hand-made silver pastry tray given to me by my mother. One day, years after I had moved away from home, I discovered this same tray displayed in a prominent place on the credenza at my mother's house. That gorgeous pastry tray had never been a part of our Cincinnati childhood traditions. Much to my delight, Nana, my mother's stepmother, had bequeathed it to my mother.
My grandfather and step-grandmother lived in Florida my entire life and we only visited them once or twice a year. Our interactions primarily revolved around playing games, feeding the ducks at the pond down the street, and visiting the beach. Silver trays not were not included. Even though our visits were minimal, I always looked forward to hearing about Nana's intriguing life. She had been a teacher and had numerous adventures before marrying my grandfather. She had travelled to Europe with her mother in the 1920's, all on a teacher's salary. She also taught grade school in Oneonta, New York, as well as small towns in America's Wild Wild West. The most memorable thing I learned about Nana, however, was that she was a distant relative of THE Wild Bill Hickock. Her maiden name was Hannah Hickock. After finding that out, everything that Nana had done made more sense. One hot Florida day, after having taken her daily afternoon shower, she opened the door of the bathroom and saw a "tall stranger" exiting down the hallway. He was stealing her purse, she recounted, and she decided to prevent this brazen act by latching on to the robber with a forceful grip. I clearly remember her mentioning that after she grabbed him "he ever so gently pushed me to the ground until I finally was forced to release my grasp". After that story, I needed no additional proof that she was related to famous cowboy stock.
Now back to the silver tray. Rumor had it that Nana was also the granddaughter of a talented silversmith in Oneonta, New York. I remember thinking my silver tray must have been made by him and even though we weren't connected by blood, we both had an appreciation for beautiful things. I loved knowing that there was an artisan in her family as well as a famous cowboy. At the bridal shower, when someone asked me about the tray, I told them the story of how my artistic step-great-great grandfather had hand-crafted it and how it had finally been bequeathed to me to display the pastries from BonBonerie.
It was quite a compelling story, but a few days later I discovered it was also not the truth. I was looking through some old letters when I found one that had been sent from Nana to my mother and ultimately from my mother to me.
On the first page it said, "Dear Sharon Ann, I think Nana would want you to have this tray because you love pastry and beautiful things. This is a letter from Nana to me explaining its history." I can't believe that I had forgotten everything that was written in that letter. I surely had read it, so how could I have conjured up such a different story? I was disappointed at first to have discovered the truth and also shocked at how easily I had passed on a lie. Perhaps because it was just such a good story, I wanted to believe it was true.
I'm not really sure what might be said about the history of BonBonerie someday. I have been within earshot of some preposterous stories about myself that didn't include a scintilla of truth. Luckily I'm still around to straighten things out. Nana's gift taught me such a beneficial lesson. It's time for me to get busy recounting the truth of the things that have happened on both sides of my bakery counter. And after witnessing a bakery's life for 38 years, I will verify that the truth has always been more than enough to surprise and delight. I look forward to sharing the truth with all of you.
Sharon Butler
Co-Owner
Letter text: Grandma and Grandpa had a lovely home. Grandpa had the village store in which he sold clocks, silverware and lovely things along that line. Grandmother had so many lovely pieces of silverware. Among them was a lovely cake basket with a pretty handle. I am giving it to you Eileen, because I know you will enjoy using it and will appreciate such an unusual silver piece.