Window Shopping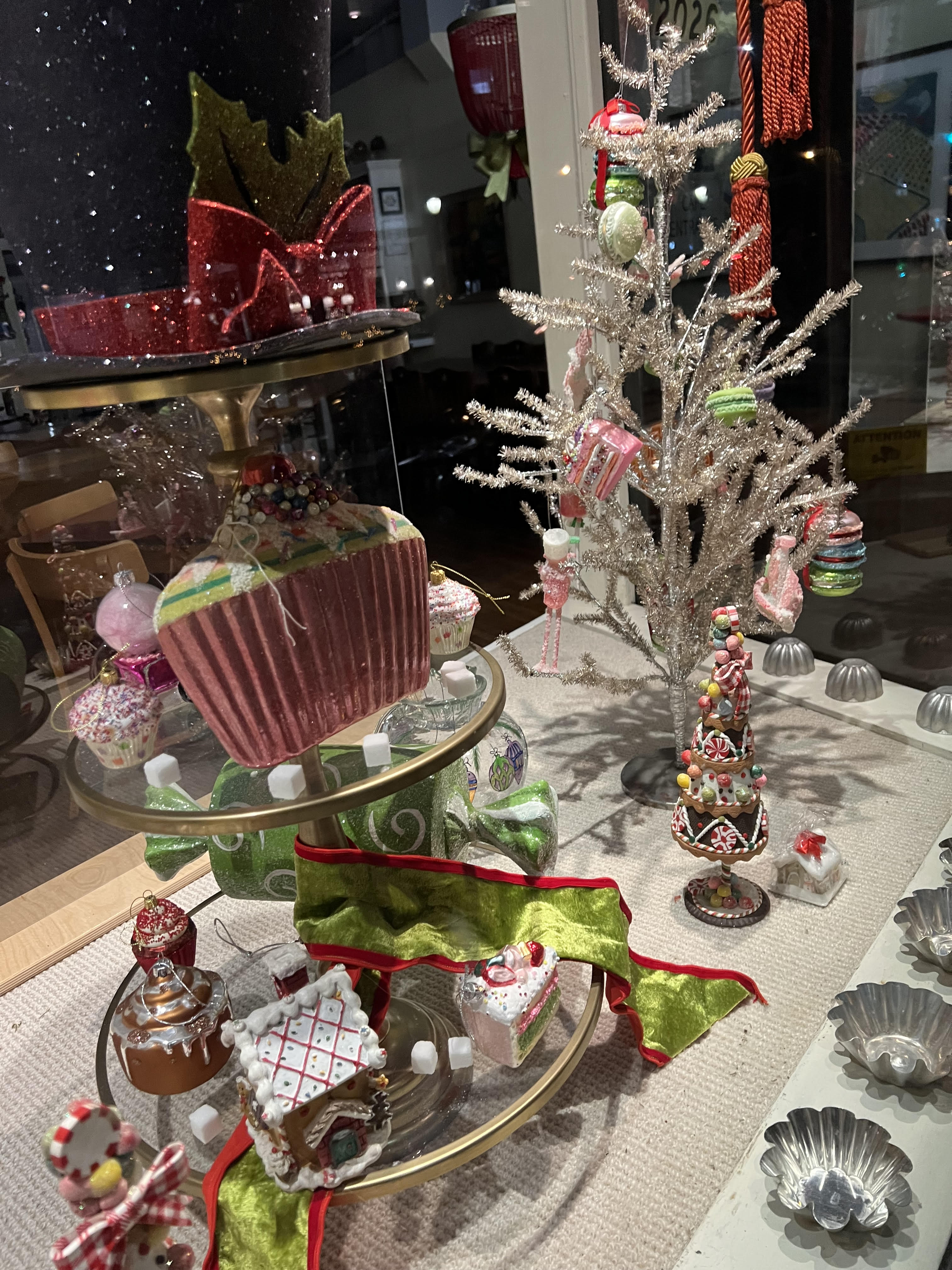 The display windows of a store are a lot like a beautiful pastry. They are alluring and tempt you into taking a bite. I decorated the windows of the tearoom and the bakery for the holiday to lure you into BonBonerie. It's like dressing up for a party where part of the excitement is seeing everyone arrive dressed up to distinguish this event, this time , this effort from the ordinary parts of our lives. Several of my friends used their art degrees decorating the windows of department stores in downtown Cincinnati like Mabley and Carew, Shillitos and McAlpins . These were all-important full-time jobs.
Window shopping was an activity worthy of a trip to downtown Cincinnati for my husband when he was a child. He and his mother would take a bus from New Richmond to downtown Cincinnati and spend the day walking the streets of downtown looking into shop windows. Before heading home, his mother would purchase a small white bag of chocolate covered raisins for each of them which they would eat on the bus ride home. That was their day in the city and Karl recalls it as one of the fondest memories he has of he and his mother. As a young adolescent, I used to take the bus downtown from Finneytown to explore Cincinnati. It was a thrill to walk through Poques arcade while shopping with my friends. It was so beautiful and if we needed a break, we could get a grilled cheese sandwich and a milk shake at Hathaways or a treat at Pogues ice cream bridge that spanned the arcade over our heads. Simple pleasures. Then back on the bus, often with nothing to show for our journey, but pure joy.
I was in one of our departments stores the other day and was grateful to see that they had decorated for the holiday. With so much online shopping happening, some of the effort that went into decorating brick and mortar stores has been dismissed. Paper banners saying "BELIEVE" took the place of elves hammering out presents in Santa's workshop or snow painted windows framing a mannequin in a sparkly couture gown that a girl could dream of wearing someday. I don't always enjoy looking wistfully in past. The present is exciting too, but some of the traditions I experienced growing up made my daily life more than the sum of the duties of a day, especially the act of shopping. Everyone laments the fact that they have so much to do and that they hate shopping and yet eleven and a half billion dollars were spent online on Black Friday this year alone. Was it joyful? Not for most. Did anyone meet a friend for lunch in between searching for a special gift for their sister? I doubt it. We rush to get so much done in the smallest amount of time, that it is easy to forget that there can be pleasure in the experience too, even when you don't buy anything at all.
When traveling, I find myself getting a feel for what a city is about window shopping after an evening meal. Even though most of the shops are closed by then, but if they took the time to decorate their windows, I know where an adventure can begin the following day.
We realize it is quite an effort for you, our customers, to show up, often wait in long lines, not to mention to find a place to park here in O'Bryonville. We appreciate all of you, all year long for your patience and support. We also hope by decorating our store for the holiday you feel immersed in an experience that will make you smile as much as the cookie or cake you are about to eat.
Happy Holidays from all of us at BonBonerie.