Wonderful to see you again!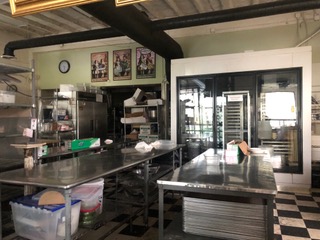 Wednesday was my first real day back working. It is my responsibility to decorate the store for each season. I considered using a Sleeping Beauty or Rip van Winkle theme, but surrounding the front door with thick brambles or attaching a 4 foot long beard to our model in the apron at our front door didn't seem to work either. So I went with spring, which I have had the luck to witness emerging each day in our back yard.
A few weeks ago, I was compelled to visit BonBonerie. On my way there, I wondered how many times I had driven down that road. The math said at least 10,000 times. I started my tour by parking across the street in the empty pay lot, then I walked across our own deserted parking lot in front of the bakery. There was not one car anywhere except mine and the lone BonBonerie truck. I unlocked the front door, and sauntered around the first floor bakery space looking at all the mixers, baking pans and bags of sugar and flour. I used to be able to pick up a fifty pound bag of sugar or flour. I never needed to go to a gym for exercise then. The refrigerator motors still hummed. The bakery area was the very first space we rented in this maze of a building. As I approached the spiral staircase that leads to the cookie department, I remembered what a big decision it was to cut a hole in the floor to provide a way to access our new cookie department. Before we put in the staircase, we would carry sheet trays of cookies outside through the "garden" into the bakery through all kinds of weather. We knew we couldn't keep doing that forever. Every day since its installation, we send up trays and trays of cookies "fire brigade style". It usually takes 4 people to hand the trays one by one up the stairs so we can restock dwindling cookie supplies. That's what we have to do, so we do it.
While downstairs, I also took a good look at the sheeter that we purchased about halfway through our history. It made a huge difference to our cookie bakers, who before we purchased the sheeter, had to roll out each scone and cookie with a rolling pin. I also remember the challenges of trying to get that same sheeter down twenty five steps to that very space. Movers would just shake their heads after they realized the daunting challenge before them. "Where's the loading dock?", they would ask. Some of them would just leave equipment at the top of the stairs leaving the solution of moving a giant piece of equipment down the stairs to every boyfriend, husband, neighbor or brother we could call. A cake or cookie would often be their only reward. It's has never been easy getting anything in or out of this space. That was "the cost of charm" we would say to ourselves.
Next, I proceeded down the hallway past our offices to the tearoom, which we started renting two years ago. That decision was a leap of utter faith. We wanted a space that would be charming, like the old tearoom, but would be available for larger parties. It has turned into a very special space as we watch the success of Cupcakes and Cocktails, Cinderella tea parties, bridal and baby showers as well as fundraisers, rehearsal dinners and birthday parties which fill the room week after week. Besides, all those shelves gave me a place to show off decades of collecting teapots, cups and artistic whimsy.
Finally I made my way through both rooms of the cafe. It's there where people stop me, often thanking me for our lovely food, service and the space that they say helps them often get through bad days .We do have wonderful servers and cooks down there.
There is so much history within our walls. Your stories are as much a part of it as the thousands of talented people who have worked here over 37 years. Right before I left yesterday, I thought about all of you and our staff as we reopen tomorrow morning. It won't be without some anxiety, but it also full of a lot of hope that things can and will get better. So to finish off my decorating, I decided to write on the window,
"Wonderful to see you again!"
That goes for the staff and customers alike.
I want to thank our dedicated management team lead by our general manager Tracy Daugherty, for their creative thinking and actual planning to reopen BonBonerie in our new reality. They have been challenging each other to think outside of a very old thirty-seven year old box to make the new BonBonerie fit for our times.
Thanks to all of you. And thanks for your orders and your faith in our future.
Sharon Butler
Co-Owner